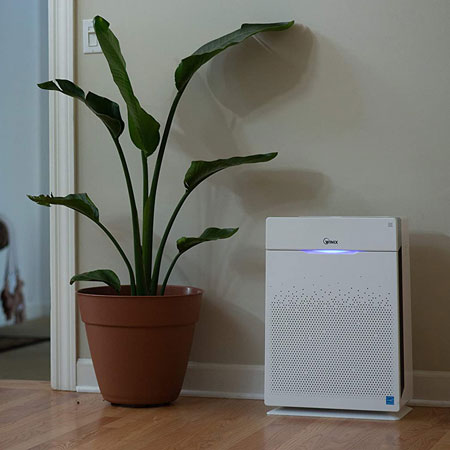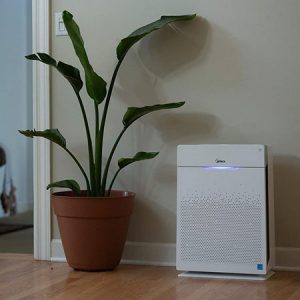 Winix is a manufacturer and supplier from South-Korea – it is popular for its innovative air purifiers that bring a lot of benefits to one's health. Known all over the world for its products, this brand managed to bring forth units that would improve air quality, because they care about the well-being of their clients.
Indoor air quality can be about 10 to 30 times more polluted than outdoor air, so Winix came up with top-notch air purifiers to get rid of the pollution. Their products can quickly clean the air in your environment, eliminating particulate matter, pollen, dust mites, dust, mold, viruses, bacteria, and odors.
This is all thanks to the way they manufacture their purifiers and the filters they use. More often than not, their purifiers feature a carbon filter that collects organic particles coming from pets, cooking and cigarette smoke. At the same time, there is a true HEPA filter to get rid of dust and any particles responsible for respiratory problems. Add that to the fact that they also use washable pre-filters to ensure the effect can be maintained and will last for longer.
If this brand sparked your interest, below you will find some Winix air purifier reviews. These will convince you of the brand's quality work and help you find the best Winix air purifiers.
Best Winix Air Purifiers Comparison Chart
PRODUCT
DETAILS

Winix 5300-2 Air Purifier

Price:

$$

Dimensions:

14.9 x 7.8 x 23.6″

Weight:

18 pounds

Coverage:

360 sq. ft.

Speed:

4

Stage:

3

View On Amazon

Winix HR900, Ultimate Pet 5 Stage True HEPA Filtration Air Purifier

Price:

$$$

Dimensions:

16.3 x 9.6 x 23.6″

Weight:

18.7 pounds

Coverage:

300 square feet

Speed:

4

Stage:

5

View On Amazon

Winix AM90 Wi-Fi Air Purifier

Price:

$$$$

Dimensions:

15.1 x 8.7 x 23.5″

Weight:

16.5 pounds

Coverage:

360 square feet

Speed:

4

Stage:

4

View On Amazon

Winix NK100 Large Area True HEPA Tower Air Purifier

Price:

$$$$

Dimensions:

12.2 x 12.2 x 29.5″

Weight:

23.1 pounds

Coverage:

320 sq. Ft.

Speed:

4

Stage:

4

View On Amazon
Best Winix Air Purifiers (Top Picks)
1. Winix 5300-2 Air Purifier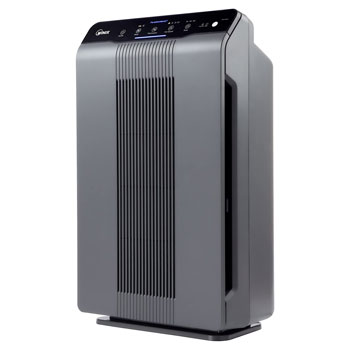 This is an air purifier that will be perfect if you have medium or larger rooms that need air quality improvements. The product is CADR rated for 360 square feet, meaning that it will be great for your rooms, as well as offices, baby nurseries, and kids' bedrooms. It has a true-HEPA filter that is able to get rid of pet dander, pollen, dust mites and many other allergens, even those as small as 0.3 microns. Besides, it has PlasmaWave that helps you get rid of unpleasant odors.
Since medium and larger rooms need a bigger capacity product to be purified, this product is more than suitable, as it's made for bigger rooms. Also, thanks to its particle removing qualities, you don't have to worry about experiencing allergy symptoms anymore. Smells will never be a problem again either – they will be removed by this air purifier and you will be able to inhale fresh air. To make things even better, it can break down these odors without harmful ozone.
The Winix 5300-2 would be suitable for anyone who has children or who suffers from allergies, as well as individuals who want to purify a wider room. If you're also someone who wants to leave the unit running while you sleep, this product is good for you – it can operate quietly and not disturb your sleep.
Pros
Quiet operation
Auto mode for fan adjustment
3-stage cleaning for removing allergens
Suitable for larger spaces
An effective HEPA filtration system
Doesn't use harmful ozone
Cons
It doesn't come with a remote. Luckily, it can still be easily operated from the panel.
Different from the Winix 5300 model, this one doesn't come with remote control, which may be annoying at first. However, it's a good thing Winix ensured the panel is readily available whenever you need to control the unit.
Although there is no remote, the purifier is worth it thanks to its multiple amazing features.
2. Winix HR900, Ultimate Pet 5 Stage True HEPA Filtration Air Purifier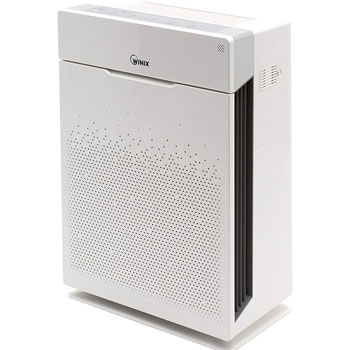 Another great Winix air purifier is this HR900 model. It has a capacity of 300 square feet, as verified by AHAM. It comes with plasma wave technology, as well as a washable pre-filter and a HEPA filter. Not to mention that you will also get an Advanced Odor Control Carbon filter with this unit. Having SmartSensor and 5-Stage filtration, the product is mostly used for removing pet hair, pet dander, and odors, although it's good at doing multiple other things.
It is amazing how great the filters are. Basically, each one of them contributes to the air quality in your house. For instance, the washable pre-filter will ensure your air purifier has a longer life because it captures larger airborne particles and pet hair. It will not allow any of these to reach the insides of the unit. Meanwhile, the washable carbon filter is effective in capturing odors, which is a big plus. After all, nobody wants to deal with unpleasant smells. Anything such as smoke, pet odors and any other smell will be eliminated. Lastly, the HEPA filters will capture 99.97% of the pollutants in your air, as well as allergens and pet dander, even 0.3-micron small ones. Plasma wave technology helps with this too, as it breaks apart chemical vapors, odors, pollutants, and allergens.
Especially for pet owners, this air purifier is a suitable product, but it is also useful if you usually sense weird odors in your house.
Pros
Can remove 99.97% of particles, as small as 0.3 microns
Gives you control over household odors
Pre-filter protects the unit from larger particles in the air and pet hair
Filters can be easily maintained
Great for anyone who has pets
Cons
It is hard to find replacements for your filters. Luckily, they don't need to be changed too soon.
Overall, the unit is great to have for pet owners, because the price is a decent one and you get a lot of benefits with it, such as multiple filters and coverage for a wide area. While filters are hard to find for replacement, you will not have to replace them immediately, so there's time to find something suitable. Just like the Winix 5300-2, this also works for medium and large-sized spaces.
3. Winix AM90 Wi-Fi Air Purifier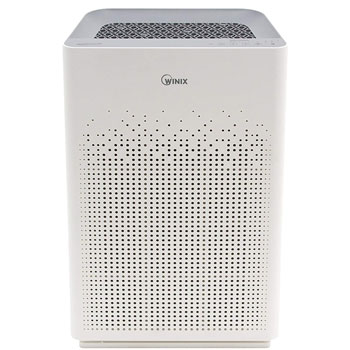 Another great product made by Winix is this AM90 model, which can be controlled in a special way. Basically, you can use Wi-Fi to monitor the unit, as it is Wi-Fi enabled and easy to connect, and can be used through the Winix Smart App. Also, the product can be used with Alexa for voice commands and information about air quality. It has a true HEPA filter, as well as plasma wave technology to make sure all pollutants and odors are kept away. It can deal with a room size of 360 square feet. Besides, there are smart sensors to take care of the environment, and an auto mode to sense changes in air quality.
It's nice to have something so easy to control. The Wi-Fi connectivity helps you monitor the air purifier from wherever you are, as long as the connectivity is good. You will also be able to make settings for the product, based on the air quality and needs. Also, for more control, you can use it with Alexa, and just use voice commands to ask for information and to make the proper settings for your unit.
The plasma wave technology will break apart things such as allergens, pollutants, odors and anything of the sort in a safe way. Not to mention that you also get a HEPA filter that captures particles as small as 0.3 microns. It is a great product for medium and large rooms.
Anyone with a chaotic schedule who wants to control their air quality from afar needs this product.
Pros
Suitable for medium and large rooms, respectively 360 square feet
Can be easily monitored and controlled with Wi-Fi and Alexa
Captures most air particles, even small ones
Odors, chemical vapors, allergens, and other particles will be safely broken apart
Cons
The application might have a little glitch from time to time.
When you look at all the pros in comparison with the one con, you can see the product is worth the price. Additionally, it is as great as the Winix 5300-2 and HR900 in the way that it can deal with medium and large spaces.
4. Winix, 4 Stage NK100 Large Area True HEPA Tower Air Purifier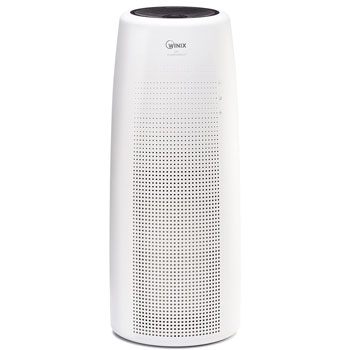 This NK100 air purifier is just what Winix is about. Like all their products, this one has multiple useful features – such as the three levels of filtration. Basically, the unit has a Cd carbon filter, but it also comes with a true-HEPA filter and a pre-filter. Add that to the fact that it has a plasma wave too, and it can be used in multiple places, especially medium and large-sized rooms, of 320 square feet.
The filtration system is what makes this unit so great. For example, HEPA filters are known for their abilities to capture particles, as they can trap the smallest particles in your air. The pre-filter, on the other hand, will do its best to trap larger particles and pet hair, preventing them from reaching the other filters or the components of the air purifier, protecting them. The Cd carbon filter is meant to get rid of the bad smells in your home, whether they're from pets, cooking or anything else. The plasma wave is also useful in this regard by breaking down everything in your air, including allergens, pollutants, odors, and many others. Moreover, it uses no harmful ozone.
For anyone who has a larger room that needs to be purified, this unit is amazing. It can deal with rooms of 320 square feet, thus being useful for kids' bedrooms, kitchens, family rooms and more. If you also have pets, this unit will be a great acquisition.
Pros
Will deal with the smallest particles in the air
Components protected by the pre-filter
Will get rid of odors in your home
Uses no harmful ozone while breaking down particles
Has 4 fan speeds
Indicator for filter replacement
Cons
Replacement filters can be really expensive. However, the ones you have should last for seasonal use.
Similar to the Winix AM90, replacing filters will cost you quite a lot. Still, the other benefits you get with the air purifier make it worth the price. Overall, it's a great product to own.
Customer Service & Warranty for Winix
Because Winix wants to make sure their clients can always reach out to them in case of an issue, there are various ways to contact them. You can use the e-mail address found on the company's official website. Another method is by using the form available on the site. You just have to fill in your name, email address, subject, and message. Lastly, there's also a phone number available for you to call.
When you purchase products from Winix, you will receive a warranty with them. If the warranty is not enough and you want to get some extra time, you can register for an additional warranty year on the Winix official website.
Winix Air Purifier Features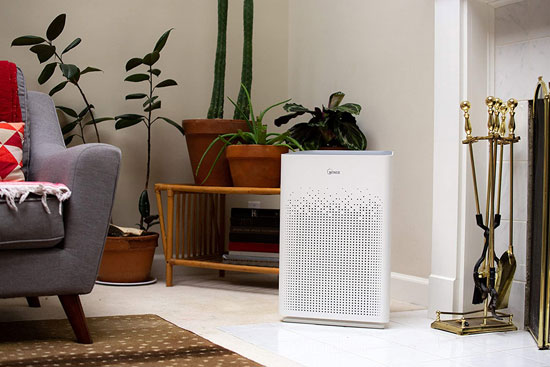 Winix is a top-notch brand when it comes to making air purifiers, which is why their models all multiple-stage filtration systems. Still, three particular features make Winix air purifiers so amazing.
When you get an air purifier for mold, you cannot afford to buy something that doesn't have powerful technology. That's why Winix didn't hesitate to add one of the best technologies that help their units clean the air faster compared to many other similar purifiers. Through their Plasma Wave technology, the products can filter even the smallest dust particles, and they don't need any chemicals to make this possible.
The air purifiers produced by Winix have simple and ergonomic designs, which make them suitable for any house décor. If you're a minimalist, then you'll appreciate the aspect of their products. Aside from matching the surroundings, these units will also work amazingly in medium and large rooms. To make sure they fit every space, they also come in various shapes and sizes. As such, it's easy for anyone to pick an air purifier that meets their needs.
Probably the most amazing feature that Winix air purifiers possess is the 5-stage filtration process. The units have multiple filters to help them collect all particles in the air. Similar to a good quality Honeywell air purifier, Winix units will also reduce mold spores, as well as airborne viruses and bacteria. As a result, you will benefit from fresher air.
Winix purifiers contain a pre-filter that can collect pet hair or large dust particles, so they don't get into the machine. Then, there's a carbon sheet filter that collects smoke, odors, and anything of the sort. Next, there is an antimicrobial coating of Cleancel. This helps prevent bacteria from growing inside the filter.
PlasmaWave is also integrated within Winix air purifiers, and it helps eliminate bacteria, gases, and viruses.
Winix air purifiers work similarly to Dyson air purifiers in the sense that both units can remove 99.97% of airborne particles as small as 0.3 microns.
Wrap Up
Winix takes their job seriously, which is why they are able to bring some of the best air purifiers to the table. Hopefully, our Winix air purifier reviews were able to convince you, and now you can pick the best Winix air purifiers for your household.