Why is it mandatory to invest in the best gun safe dehumidifier? For one thing, maintaining your gun plays a key role in ensuring its longevity. After a significant period, the exposure of metal to moisture and external elements leads to corrosion and rust. Therefore, when stored inadequately, your firearm collection is likely to deteriorate.
This inevitably happens if you don't keep your gun out of moisture, ideally in a safe. Essentially, storing a firearm accordingly is the key to prolonging its lifespan. In general, gun safes aren't opened on a regular basis and the air inside doesn't circulate. In addition, the changing temperatures could lead to fluctuating temperatures inside the safe. However, a safe dehumidifier is meant to absorb that moisture and provide the perfect environment for your firearms. Go ahead and read our gun safe dehumidifier reviews to make a sensible purchase!
Best Gun Safe Dehumidifiers Comparison Chart
PRODUCT
DETAILS

Goldenrod Original Dehumidifier

Price:

$$$$

Coverage:

up to 100 cu. Ft

Power:

110/120V

View On Amazon

LOCKDOWN Dehumidifier Rod

Price:

$

Coverage:

up to 100 cu.Ft

Power:

110V

View On Amazon

PEET Dryer – SafeKeeping Dryer and Dehumidifier for Gun Cabinets

Price:

$$$

Coverage:

up to 80 cu. Ft

Power:

110 / 120V

View On Amazon

Eva-Dry New and Improved Renewable Mini Dehumidifier

Price:

$$

Coverage:

up to 333 cu. Ft

Power:

120/ 240V

View On Amazon

Stack-On Rechargeable Cordless Dehumidifier

Price:

$$$$

Coverage:

up to 100 cu. Ft

Power:

110V

View On Amazon

Dry-Packs Silica Gel Canister Dehumidifier – Moisture Indicating

Price:

$$

Coverage:

up to 57 cu. Ft

Power:

No electric needed

View On Amazon
Best Gun Safe Dehumidifiers (Updated List)
1- Goldenrod Original Dehumidifier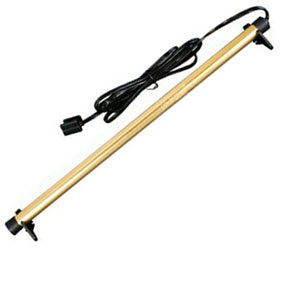 This is, without a doubt, one of the most powerful dehumidifiers on the market. It is created for your convenience, featuring a detachable plug. It is capable of covering 100 cubic feet of area. In addition to that, it will heat up your safe to up to 70 degrees.
Considering that you already have holes drilled in your safe, completing the setup will take roughly ten minutes or so. Distinct from other units in its category, this one doesn't get too hot, so that you can't touch it.
To offer peace of mind, this manufacturer provides a lifetime guarantee with every purchase.
Aside from that, it can diminish the humidity level by fifty percent. Therefore, it is considered to be museum quality. Nevertheless, it's worth mentioning that the legs supporting the dehumidifier aren't as sturdy as they should be. Plus, if you have a significant collection of firearms and your safe is rather large, then you might need to get more than one dehumidifier.
2- LOCKDOWN Dehumidifier Rod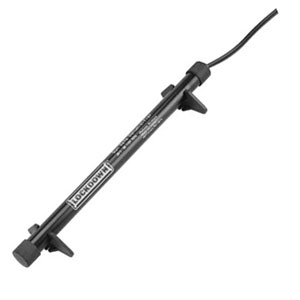 Moving on, we'd like to introduce you to an electronic dehumidifier. The best part is that this product is available in various sizes. Hence, you can choose the one that best suits your needs.
In order to prevent the safe from generating mildew, this dehumidifier circulates the air inside. Essentially, this prevents humidity and condensation from setting in, so that your firearm collection is safe.
Furthermore, it comes accompanied by mounting brackets, so that you can effortlessly mount it inside the safe. What is more, the plug isn't attached to the cord. This way, you can customize the length of the wire, depending on your specifications.
If you live in a humid environment, this dehumidifier rod is a life-saving acquisition.
On the other hand, there are some minor inconveniences we should mention. This rod is prone to get a tad too hot to touch. Still, it doesn't get as hot as to cause a fire or anything of the kind. Plus, the quality of the plug could be better.
3- PEET Dryer – SafeKeeping Dryer and Dehumidifier for Gun Cabinets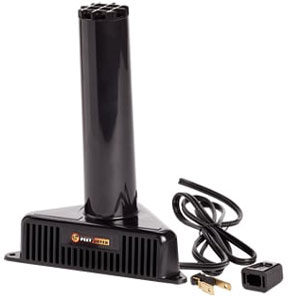 This is another top-quality electric dehumidifier, which efficiently heats up the air inside your gun safe. At first, you might think that the shape is rather unusual.
Nonetheless, its design is actually smart. Comprising of a base and a tower, the patented design has the purpose of circulating the air evenly, covering the entire surface of your gun safe. However, a potential drawback is that it takes up some space, in comparison with other units that are more space effective.
In regard to the installation process, it is to-the-point – that if you know what you're doing. If not, note that you are required to thread the cord through a hole inside the safe.
When it's up and running, this dehumidifier is capable of covering approximately 80 cubic feet. Thanks to the five-year warranty, you can rest assured that, if something does happen to the device, the manufacturer will address the issue.
Still, if you want to benefit from this, you should register the product within 10 days after purchasing it. Make sure you don't overlook this; otherwise, you'll lose the warranty.
4- Eva-Dry New and Improved Renewable Mini Dehumidifier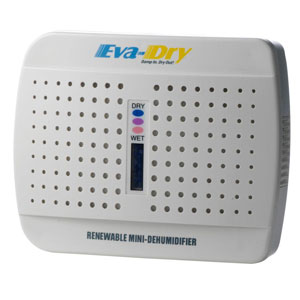 We could say that Eva-Dry dehumidifiers are created with high-quality standards in mind. Each product comes with a 5-year warranty, which is nice to know. Usually, we assess a product's warranty as an important consideration, since it offers peace of mind.
This device aims at regulating the levels of humidity by utilizing renewable silica gel. And while there are many dehumidifiers on the market that function only when there is power, that isn't the case with this one.
Moving on, this aims at absorbing moisture and we really like that this unit indicates the level of absorption. That is to say, the color of the crystals changes from orange to green. The green color shows that the crystals are saturated. After you reactivate the crystals, they will turn back to being orange.
5- Stack-On Rechargeable Cordless Dehumidifier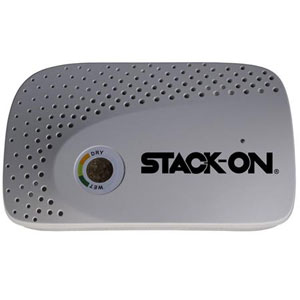 Our list of dependable safe dehumidifiers continues with this unit manufactured by Stack-on. First and foremost, it runs on electricity, meaning that you don't have to worry about changing its batteries every now and then.
In front of the dehumidifier, there is an indicator that lets you know when you should recharge the unit. It goes without saying that this is really convenient.
How much does it take for the device to recharge? For the most part, if you leave it overnight to recharge, you should be able to use it the next day.
We also like that installing this doesn't entail any wires or anything of the kind. Therefore, you don't have to drill any holes in the safe. On the other hand, once the device is fully charged, it is likely to overheat. Hence, you shouldn't touch it for thirty minutes or so, at the very least.
6- Dry-Packs Silica Gel Canister Dehumidifier – Moisture Indicating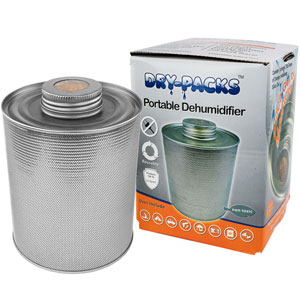 This is another solution to the moisture that adds up in your gun safe. Most notably, though, it is really easy to use.
Regardless of its compact size, we were quite surprised by its effectiveness, in the sense that it does an amazing job at capturing all the moisture that builds up in a gun safe – whether it is small or large.
On a different note, it has a quiet operation and doesn't make any noise. So, if your gun safe is situated inside the house, this characteristic is really great.
But how do you know when you should reactivate the dehumidifier? Well, you should keep an eye out on the visual indicators.
Make sure you check the written instructions that come with the device, in order to reactivate it. You'll see that this requires heating up the unit in the oven for a couple of hours or so. Nevertheless, a potential downside is that the case is rather fragile, not to mention that it doesn't accommodate too much water.
7- LOCKDOWN Silica Gel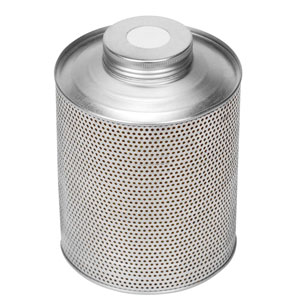 This is another unit that will help you keep the moisture levels inside your safe under control. Distinct from dehumidifier rods, this doesn't run on power. In fact, you can recharge the device and use it again and again. All you have to do is heat it up in the oven so that the particles recharge.
Moving on to the amount of space it covers, this dehumidifier protects up to 57 cubic feet.
Without a doubt, the fact that it is small and handy comes as an advantage. You can place it anywhere, without worrying that it will take a lot of space. Some former customers even used it inside the car, in order to prevent the windows from fogging up inside. That is to say, it is surprisingly versatile, and it does a decent job of absorbing moisture.
The Level of Humidity Inside a Gun Safe


First and foremost, guns are made from metals. As you already know, metals are prone to rust, especially when you expose them to an environment with a high moisture level. Contrary to popular belief, though, this will affect more than the appearance of the gun.
It will also impair its functionality, meaning that you'll encounter difficulties when loading and firing it. Bear in mind that rusty guns are more exposed to a mechanical failure that can jeopardize your safety.
This is why you should maintain your gun in a moisture-free environment. So, in order to control the level of humidity inside your gun safe, you should consider investing in a dehumidifier.
This unit diminishes the moisture level, thus, protecting your guns from rust and humidity. Therefore, you'll be using your firearms for many years to come – and you'll be able to do that safely.
What Is the Ideal Humidity Level inside a Gun Safe?
There is a lot of talk regarding the right humidity level for firearms – and there's no such thing as the perfect number to aim for. In other words, the perfect number depends on your situation. There are many factors you should consider – the type of wood stock is made of is of utmost importance. To that end, each firearm has it's very own perfect temperature and humidity levels requirements.
So, when you invest in a gun safe, your goal is safety and accuracy. According to Doug Wicklund, who is the Senior Curator of the NRA's National Firearms Museum, the year-round temperature to aim at is 70 degrees Fahrenheit. Basically, you should focus on promoting a 50 percent relative humidity level.
However, consistency is the key – as making unexpected changes to the humidity levels inside your safe may trigger cracks in the wood sacks. Doug Wicklund has written a paper on this topic if you want to find out more.
How to Dehumidify a Gun Safe Effectively?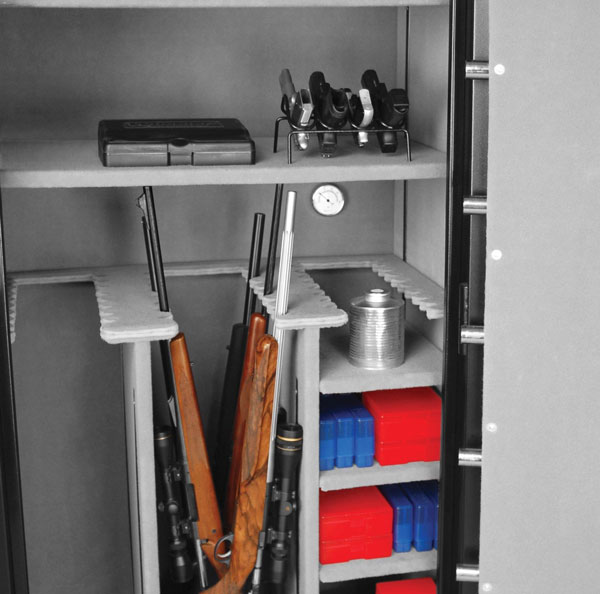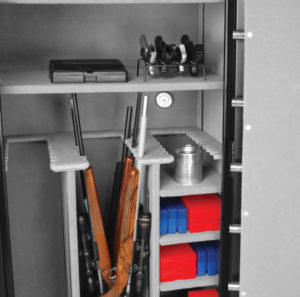 Dehumidifying a gun safe is made easy thanks to the varieties of dehumidifiers you can find on the market. This is a simple, yet effective gadget that maintains the humidity levels inside the safe, diminishing the moisture in the air. Evidently, this deters any excess moisture from condensing in, therefore, keeping your guns safe at all times.
On the other hand, if you don't use a dehumidifier, your guns will be prone to deformation, rusting and paint chippings.
We find it quite surprising that most people eagerly invest in a gun safe, overlooking the importance of a dehumidifier. In truth, a gun safe's efficacy is notably reduced if the humidity levels are overboard. So, something as simple as placing a dehumidifier in your gun safe will allow you to keep the moisture levels under control – and do that effortlessly.
Best Gun Safe Dehumidifier Buying Guide: What Features to Look for
Browsing for the best small dehumidifiers can be a tad overwhelming, considering the broad selection of products. However, in order to narrow down your choice, you should factor in a bunch of key aspects.
First of all, the unit's absorption capacity should be at the top of your priority list. Each dehumidifier comes with its own specifications you should analyze beforehand. In all fairness, not only dehumidifiers come with unique specifications. The same is true for humidifiers and air purifiers too. You can check all of our other guides and product reviews by seeing our home page at Humidity Expert.
Some of the models we've presented beforehand depend on silica gel beads, which aim at absorbing the excess of moisture present inside the safe. In this case, the larger the quantity of silica gel beads, the higher the absorption capacity of the dehumidifier. Hence, if you're considering investing in a silica gel dehumidifier, then you should know that the larger the dehumidifier, the higher its absorption capacity will be.
It goes without saying that a unit's effectiveness is influenced by this factor. This is why we talked about the method used for handling humidity – this will give you a clear idea of its effectiveness.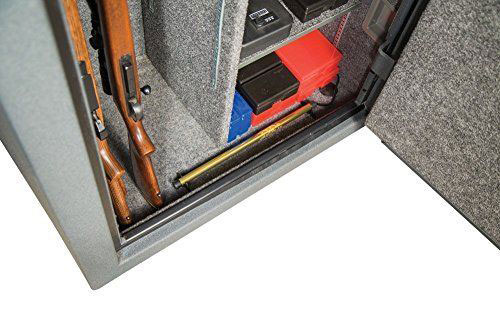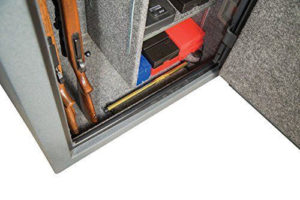 An item's ease of installation is imminently determined by its user-friendliness. And, after reviewing our top products, we can say that some are more difficult to install than others. It all comes down to this: how important is this aspect to you?
To that end, dehumidifiers that use silica gel for absorbing the moisture don't depend on a power source. Therefore, all you have to do is place the unit inside the gun safe, and your job ends there.
On the other side, electric dehumidifiers require continuous access to a source of power. Evidently, this could complicate the installation process – it depends on your gun safe.
For example, some gun safes come with pre-drilled holes for anchorage. In this situation, you should get it over within a few minutes. All you have to do is pass the cord through the anchorage hole and plug it in – it's as simple as that.
Nevertheless, if the safe you have doesn't come with pre-drilled holes, you will have to drill them yourself. In order to do this successfully, you should read the manufacturer's instructions beforehand to determine whether the safe can be drilled without impairing its security in any way.
Safe dehumidifiers come in different sizes. And, depending on the unit's size, the amount of coverage will vary. Before making a purchase, make sure you factor in the size of your safe. Do you own a large firearm collection or not?
In other words, it doesn't make sense to invest a large amount of money in a large dehumidifier if your safe is rather small. Your needs should dictate your purchase. Otherwise, you'll simply end up spending more money than needed.
As a rule of thumb, dehumidifier rods are considered to be among the most effective types. These are capable of protecting up to 100 cubic feet – however, this will depend on the type of product you purchase. Desiccant dehumidifiers are just as effective – smaller ones being highly recommended for limited spaces.
Also, if you require strong protection against moisture, you should note that electric dehumidifiers offer better protection than others – specifically in the case of large safe guns.
See our dehumidifier reviews by size; Top-notch 30 Pint Dehumidifiers, Top-notch 50 Pint Dehumidifiers, Top-notch 70 Pint Dehumidifiers.
And lastly, but definitely not least, you should assess a dehumidifier's ease of use. This refers to properly maintaining the unit. A large part of the maintenance required comes down to reactivating the dehumidifier after it has absorbed a significant amount of moisture. Depending on the model you choose, reactivating it can be easier or more time-consuming. This is why you shouldn't overlook this.
What Are the Main Types of Gun Safe Dehumidifiers?
There are numerous types of dehumidifiers on the market, but we'd like to talk about the most prominent categories used for gun safes, as following:
Electronic Gun Safe Dehumidifiers
There is no doubt that electronic gun safe dehumidifiers are among the most popular products. Many people prefer them due to their high efficacy levels. How does an electronic gun safe dehumidifier eliminate the moisture inside the safe?
It accomplishes this by heating the internal environment of the safe, through an exposed heating element. This is referred to as the goldenrod. This component is capable of reaching 140 degrees almost instantly. Therefore, it quickly evaporates built-up moisture.
Aside from that, the dehumidifier contributes to preventing condensation, as well. That's primarily due to the high temperature inside the gun safe. Bear in mind that these types of units are often preferred because they are highly effective in eliminating the moisture from the safe's internal structure.
In spite of all these benefits, the thing with these devices is that they entail wires and cords, as they are constantly connected to a power source. If you find this too inconvenient, you should pick another type of product.
Wireless Rechargeable Gun Safe Dehumidifiers
On a different note, if you aren't too eager about drilling holes through your gun safe, you can always opt for a wireless dehumidifier. These don't imply any cords or wires, which might complicate the installation process.
We're talking about rechargeable units – which are slowly, yet steadily growing in popularity. Evidently, they are much smaller than their counterparts, but they could serve their purpose if your gun safe is compact.
The advantages are evident: such a unit is much easier to handle, not to mention that it is smaller, meaning that it doesn't occupy a lot of your precious space.
Wrap Up
We hope that our guideline concerning the best gun safe dehumidifiers has served its purpose. We wanted to include a broad selection of dependable, high-quality products that perform as expected. So, regardless of the product you choose, one thing is for sure, a gun safe dehumidifier is an important purchase – especially if you want to prolong the lifespan of your firearm collection.
Rust and corrosion are bound to appear when your guns enter direct contact with an excess of moisture. And the appearance of your guns isn't the only thing that is impaired, but their performance will also have to suffer. Thus, it would be safe to say that a dehumidifier is a long-term investment for your safety, as well.
Maintaining your guns in top shape is essential – simply getting a high-quality product and expecting it to last forever won't do. You have to put some time and effort in this direction. So, do consider our gun safe dehumidifier reviews when making a purchase and you won't have to worry about rust or corrosion.