Do you know that we tend to spend most of our time indoors? In truth, according to the Environmental Protection Agency, Americans spend approximately 93% of their life indoors. This is why the quality of your indoor air shouldn't be overlooked. As the temperatures outside start to decrease, due to the cold weather, the indoor humidity levels are reduced, as well. This is associated with numerous side effects – just to name a few, dry skin, irritated sinuses, weakened immunity, and allergies. However, looking for the best cool mist humidifier for small rooms could be the answer to this problem.
Expressly, the best humidifiers for bedroom aim at combatting these unpleasant symptoms. Therefore, it would be safe to say that enhancing the quality of your indoor air will also improve your comfort and overall health. Since the market is filled with numerous items that are presented as being the best of the best, make sure you check our cool mist humidifier reviews for some recommendations.
Best Cool Mist Humidifiers Comparison Chart
PRODUCT
DETAILS

Pure Enrichment MistAire Ultrasonic Cool Mist Humidifier

Price:

$$$$

Dimensions:

10.9 x 9.2 x 6.9″

Weight:

1 pound

Water capacity:

1.5 L

Lasts:

up to 16 hours

Highlights:

• Automatic Shut-Off • Whisper-Quiet Operation

View On Amazon

Anypro Ultrasonic Cool Mist Humidifier Mist Humidifier

Price:

$

Dimensions:

9 x 9.9 x 8.7″

Weight:

2.9 pounds

Water capacity:

3.5L

Lasts:

20 to 36 hours

Highlights:

• Ultra Quiet • 6 Optional Night Lights

View On Amazon

Pure Enrichment MistAire XL Ultrasonic Cool Mist Humidifier

Price:

$$$$

Dimensions:

12.2 x 6.5 x 9.0″

Weight:

2.56 pounds

Water capacity:

1 Gallon

Lasts:

up to 15 hours

Highlights:

• Automatic shut-off safety feature • Optional Night Lights

View On Amazon

PurSteam 4L Ultrasonic Cool Mist Humidifier

Price:

$$

Dimensions:

13 x 10 x 9.2″

Weight:

2.2 pounds

Water capacity:

4L

Lasts:

up to 20 hours

Highlights:

• Whisper-Quiet Operation • Automatic Shut-Off

View On Amazon

PureGuardian 6L Output per Day Ultrasonic Cool Mist Humidifier

Price:

$$

Dimensions:

7.3 x 7.3 x 15.4″

Weight:

2 pounds

Water capacity:

6L

Lasts:

up to 30 hours

Highlights:

• Ultrasonic Technology • Automatic Shut-Off

View On Amazon

Pure Enrichment MistAire Studio Ultrasonic Cool Mist Humidifier

Price:

$$

Dimensions:

11.1 x 5.1 x 5″

Weight:

1.46 pounds

Water capacity:

0.7L

Lasts:

7 to 10 hours

Highlights:

• Ultrasonic technology • Auto Shut-Off

View On Amazon

Rosewill Ultrasonic Cool Mist Humidifier

Price:

$$$

Dimensions:

13.5 x 9.8 x 9.8″

Weight:

4.2 pounds

Water capacity:

5L

Lasts:

up to 10 hours

Highlights:

• Ultrasonic technology • Automatic Shut-Off

View On Amazon
10 Best Cool Mist Humidifiers Reviews (Update List)
1- Pure Enrichment MistAire Ultrasonic Cool Mist Humidifier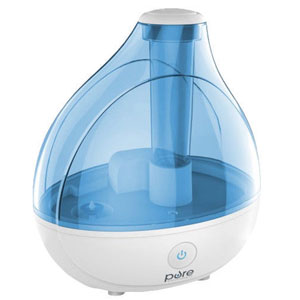 This is a top choice for small spaces such as bedrooms, offices, nurseries, and so on. Of course, it is compact, weighing only 2.27 lbs., meaning that you can easily move it from one room to another. Also, it takes the minimum amount of space.
It is true that the 0.4-gallon water tank is quite small. Still, if you plan on using the humidifier only at nighttime, filling the tank once a day will suffice.
More specifically, one tank refill should last approximately 16 hours – if you select the most powerful mist output. Aside from that, thanks to the 360-degree mist nozzle, you can choose to direct the mist wherever you want – towards the areas that actually need moisture.
As for the optional blue nightlight, some former users have found it soothing, while others said it was too bright. Therefore, it is a matter of personal choice. And while the humidifier is easy to fill, due to the rather small opening, scrubbing inside the tank can be a challenge, even with the included cleaning brush.
2- Anypro Ultrasonic Cool Mist Humidifier Mist Humidifier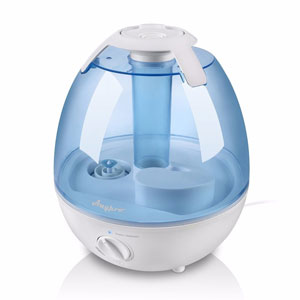 Moving on to another excellent unit for small spaces, this cool mist humidifier comes with numerous helpful features. Honestly, we were quite surprised regarding how silent the unit is. This is a major advantage, especially if you want to use the device during the night.
At the same time, thanks to the adjustable control setting, you can set the desired humidity level in a room. Aside from that, you can direct the mist wherever you want, by utilizing the extra-handy 360-degree rotation feature.
If you enjoy utilizing essential oils, due to their numerous health benefits and appealing scents, you will be pleased to know that the humidifier incorporates a specifically designated spot for adding essential oils.
The integrated night light is another feature worth mentioning. It isn't too bright so that it is disturbing, but it can be really useful for youngsters, in particular.
On the other hand, kids might knock the humidifier over rather easily. This is why it might be useful to be able to lock the top compartment. On a different note, we've found that changing the pads inside the aromatherapy drawer is a bit time-consuming.
3- Pure Enrichment MistAire XL Ultrasonic Cool Mist Humidifier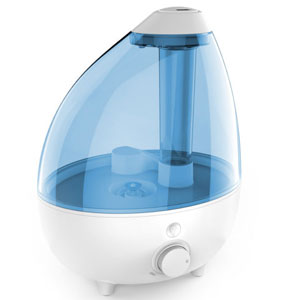 There is a reason why this humidifier is presented as the XL Ultrasonic Cool Mist Humidifier. It incorporates a one-gallon water tank, making it ideal for larger spaces while being compact.
Hence, this unit will effortlessly humidify areas of up to 500 square feet.
Obviously, the whisper-quiet operation mode of the unit makes it really appealing for bedrooms, in particular. That is to say, even if you are a light sleeper, you won't be troubled by this humidifier.
You can also include a few drops of essential oil into the water tank, to enjoy the numerous benefits of aromatherapy. Not to mention that this creates a soothing, relaxing atmosphere.
Nevertheless, while this is a potent humidifier, it doesn't incorporate an air filter. As a result, if the water you include in the tank isn't filtered beforehand, it could lead to the accumulation of white dust on curtains, furniture, and so on.
4- PurSteam 4L Ultrasonic Cool Mist Humidifier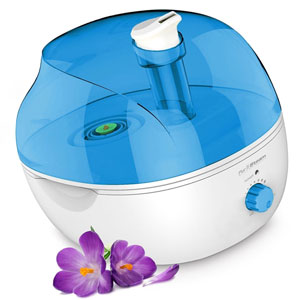 Featuring a stylish, minimalist design, this cool mist humidifier is a life-changer in terms of indoor air quality. You'll find it really easy to adjust the moisture to the desired level, thanks to the variable knob control.
There is also an individual switch button for a night light. Hence, you could place this humidifier in a nursery or children's room.
The 4-liter water tank provides sufficient coverage for most bedrooms and rooms. Essentially, this should do a decent job in the case of medium-sized rooms.
It operates approximately 17 uninterrupted hours – allowing you to get a restful sleep. Once again, you can adjust the direction of the mist, depending on what appeals to you the most.
The automatic shut-off feature is definitely handy, meaning that you don't have to worry that the unit will keep running if the water tank is empty. On a different note, the low water indicator informs you when you have to refill the tank.
Nevertheless, as noted by former customers, cleaning the tank can be difficult.
5- PureGuardian 6L Output per Day Ultrasonic Cool Mist Humidifier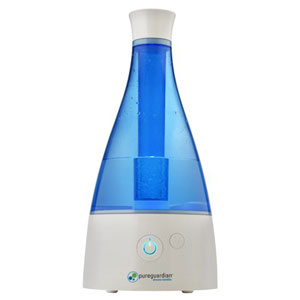 This is another excellent humidifier that is more than ideal for small and medium-sized spaces. It has a .5 gallon water tank, which facilitates up to 30 hours of runtime.
A unique characteristic is the inclusion of the silver clean protection. This aims at inhibiting the growth of bacteria and mold on the surface of the water tank. Therefore, this should eliminate any concerns regarding the quality of the mist.
Thanks to the Ultrasonic technology, the fine mist is easily dispersed in the air, providing immediate relief from the discomfort associated with dry air.
You can customize the settings of the humidifier by adjusting the mist settings according to your specific needs. There is also an optional night light, which you may or may not find handy, depending on whether you're a light sleeper or not. However, the night light is optional, which is good to know.
Of course, the low water indicator informs you when it's time to refill the tank and it definitely comes in handy. However, some customers have complained about the durability of the product.
6- Pure Enrichment MistAire Studio Ultrasonic Cool Mist Humidifier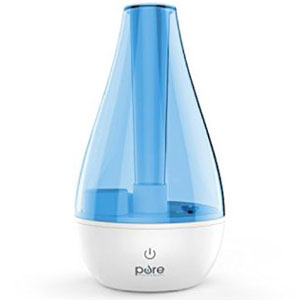 If you're on the lookout for a compact humidifier that will do the job, then this one by Pure Enrichment is likely to address your needs. Thanks to its sleek and compact size, it is excellent for small spaces.
This unit allows you to choose from various low and high mist settings. On the lowest setting, the unit releases approximately 60ml/hr moisture, whereas, on the highest setting, it releases up to 80ml/hr moisture.
Similar to some of the products we reviewed beforehand, this also comes with the optional night light. So, it's entirely up to you whether you decide to actually use it or not.
The 0.7 – liter water tank ensures that the humidifier will work for 10 hours straight. That translates into continuous operation, which is useful, especially if you want to let it run during your sleep.
A potential drawback could be that the refill hole is a tad too small. Plus, it is a bit difficult to say if the screw is closed accordingly, as there's no click or anything of the kind.
7- Rosewill Ultrasonic Cool Mist Humidifier
Our list of recommendations carries on with this cool mist humidifier by Rosewill – a unit whose tank capacity is of 5 liters. Thanks to the filter-free design, this means you won't have to worry about troublesome maintenance.
As it was the case with many of the items we already presented, this humidifier also comes with a 360-degree adjustable dual nozzle mist outlet.
Another handy feature is the auto shut off characteristic, meaning that the appliance automatically shuts down when the water level is too low for it to function accordingly. There is also an included LED night light featuring variable mist control.
Moving on to the ultrasonic technology, this ensures that the unit operates quietly, which is definitely a highlight. Concurrently, as pointed by the manufacturer, you can successfully use this humidifier in spaces of up to 250 square feet.
Are there other drawbacks worth noting? According to former customers, the light in the base is a bit too bright, which could be unpleasant. It might be nice to have the option of turning the light off. Still, considering the price of the unit, it offers decent value.
8- Anypro Cool Mist Humidifier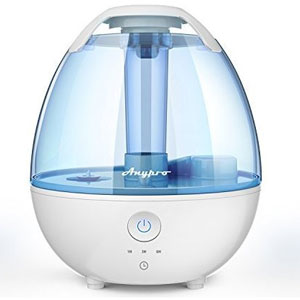 The design of this cool mist humidifier is smart and practical, which makes it really easy to use. This is always an advantage when it comes to house appliances.
The 2-liter tank capacity makes this humidifier suitable for smaller rooms. If you select the highest setting, it should run continuously for 10 hours. Nevertheless, if you select the lowest setting, then you can expect it to work for roughly 16 hours, or somewhere around that.
Nonetheless, do note that the manufacturer recommends using distilled water with the humidifier. That's specifically because tap water consists of chlorine and other harmful components, among other things, which have harmful effects on your health.
At the same time, even if the humidifier features a silver-ion antibacterial agent, this doesn't eliminate the need to clean it on a regular basis. This will also improve the lifespan of the unit while ensuring that you breathe fresh, clean air.
9- Sparoma Cool Mist Humidifier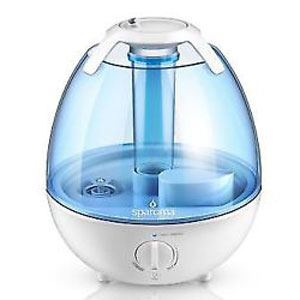 A compact humidifier is a go-to solution for solving the common problem of excessively dry indoor air. Manufactured from durable ABS material, this humidifier is made to last. At the same time, the internal electrical components are insulated accordingly, to offer safety assurance.
As for the control panel, it is straightforward and to the point, which makes it easy to use. Considering that this is a cool-mist humidifier, it is 100 percent safe for children. That's because units that release hot air might not be the safest option when kids are in the proximity.
Due to the 360-degree rotatable nozzle, you can easily customize the direction in which you want the mist to be delivered. Most importantly, this is a quiet device, which makes it perfect for using it round-the-clock, even when you sleep.
The problem with large humidifiers is that they are quite noisy. Happily, that isn't the case with this unit. Nonetheless, when it comes to the refilling of the tank, this can be quite difficult, due to the design that could do with some improvements.
10- Bartnelli Ultrasonic Cool Mist Humidifier with Ultra-Quiet Operation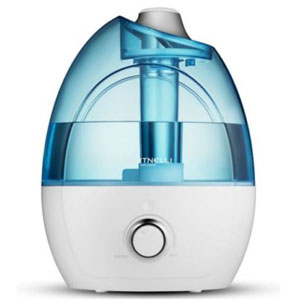 Thanks to the ultrasonic cool mist technology, this humidifier will maintain the air inside your house moisturized and fresh. The 3.5-liter water tank has a perfect size so that the humidifier can cover an entire room.
At the same time, due to the adjustable mist spray, you can attempt to regulate the amount of vapor released in the air.
Let's be frank: who enjoys sleeping in a noisy environment? Noise can really disturb the quality of your night's sleep. Nevertheless, this doesn't mean that you don't want to enjoy the benefits of having a humidifier work at nighttime.
The good thing is that the operation is really quiet in the case of this particular unit. Since you cannot know for sure when the humidity level is likely to drop or increase, there is a knob that allows you to customize the humidity level accordingly.
We should mention one thing, though – there had been some complaints indicating that the product could be more durable.
What Are the Health Benefits of Using a Cool Mist Humidifier?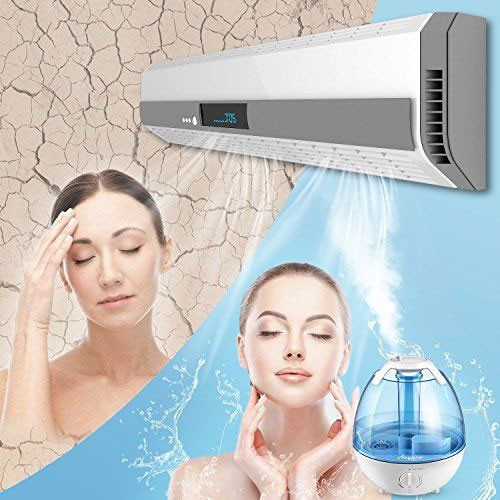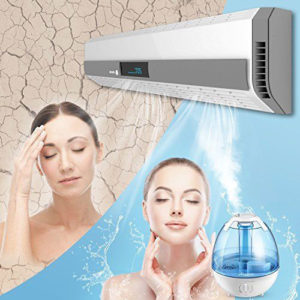 The health benefits of cool mist humidifiers are multifold. Not only that such a unit will add comfort to your house, but it will also enhance your health. It's no surprise that people might want to invest in a humidifier for eczema, for example, or a humidifier for allergies because they are quite efficient in these situations.
With that in mind, let's analyze the main benefits associated with humidifiers, shall we?
When the breathable air is excessively dry, this will lead to drying the membranes and nasal passages. As a result, they will be prone to irritation and swelling.
In order to respond to this, the body will produce a larger amount of nasal mucus, in order to compensate for the dryness. Expressly, the purpose of the overproduction of nasal mucus is to facilitate moisture to the affected areas.
Consequently, this is likely to trigger unpleasant, uncomfortable congestion. In this view, humidifying the indoor air could make the world of a difference.
Evidently, this will provide a comfortable breathable air, meaning that the body will no longer have to overproduce moisture. Hence, if you're regularly dealing with congestion, a humidifier might address this problem.
Did you know that your body's defense against harmful bacteria and viruses is represented by the mucous membranes? However, in order for these to function accordingly, they have to stay moisturized.
When you breathe overly dry air, this will imminently attract the moisture out of the membranes. That will leave them incapable of protecting you. As a result, your immunity is compromised.
Nevertheless, if the air you breathe has a proper moisture level, then the membranes will regain their moisture. As a result, your immunity will greatly benefit from this.
Your overall health will get a boost from all three main devices that we have reviewed on our home page.
Soothe the Symptoms of Chronic Obstructive Pulmonary Disease (COPD)
Unfortunately, chronic obstructive pulmonary disease (COPD), is an overly common condition. If you are suffering from it, then you must know that any lung irritation can have devastating effects on your overall health.
In this respect, dry air has been proven to be specifically harmful to people with this condition. This is why an appropriate humidifier can soothe the symptoms of this disease, preventing it from causing you more discomfort.
Nonetheless, note that you shouldn't over humidify the air either, as this could trigger other unwanted complications.
Address the Symptoms Associated with Croup
When it comes to croup, both cool and warm steam can lessen the symptoms linked to the condition. Nevertheless, to benefit from a humidifier, it would be best to get one and locate it in an enclosed space.
In general, the steam does an excellent job of breaking down anything in the throat, whereas the cold mist is known to diminish the swelling.
Facilitate Breathing Comfort to Asthma Sufferers
Did you ever wonder: is a humidifier good for asthma? If you have, then you should know that the answer is "yes". In fact, a cool-mist humidifier is believed to be more efficient for asthma sufferers.
That's because warm air is prone to irritate the lungs. You might know by now that any lung irritation could trigger asthma attacks. On a different note, if you're suffering from asthma, or you're prone to this condition, make sure you invest in a unit that allows you to adjust the humidity level accordingly.
This way, you can customize the moisture levels depending on how you feel most comfortable.
Diminish the Severity of Allergies
Are you dealing with allergies? We know how unpleasant allergies can be; especially since they are unpredictable, and they can break havoc on you without any additional notice. In fact, allergies are known to cause a common condition – namely allergic rhinitis.
This condition triggers nasal irritation, congestion, and inflammation. This is why it might be a sensible choice to invest in a humidifier, as such a unit does an excellent job of treating the symptoms of rhinitis.
Keep the Little One's Comfortable
Many people consider investing in a humidifier when they first become parents. That's because babies are overly sensitive, especially when it comes to sudden changes in the environment. At the same time, when the air is overly dry, babies are likely to develop various skin conditions.
Another concern could be that of congestion – which is why a humidifier will certainly come in handy. With that in mind, if the baby breathes comfortably, that means he/she is likely to sleep better, and uninterruptedly, which is a perk for sleep-deprived parents.
Relieve Severe Skin Conditions
Did you know that one of the main triggers of dry skin and eczema is dry air? Hence, by humidifying the air, you can prevent the worsening of the condition. Essentially, the moisture in the air diminishes the feeling of itchiness and unpleasant tightness.
Choosing the Right Humidifier for Your Needs: Portable vs. Single Room vs. Whole House Units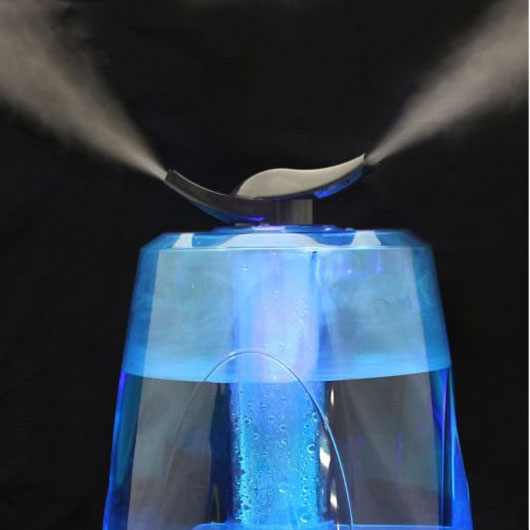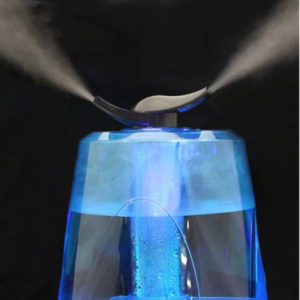 So, what should you choose from a portable humidifier, a whole-house humidifier, or a single room humidifier? To help you, we'd like to shortly outline the main characteristics of each device. Evidently, your needs should eventually dictate your decision.
Firstly, the main benefit of a whole-house unit is that, once it is installed and linked to your house's system, it requires little to no maintenance at all. At the same time, it covers your entire house, meaning that you can control the moisture level inside your entire house. However, the upfront cost is considerable, not to mention that you have to factor in the professional installation, which is required in most cases.
In regards to portable units, these usually come on wheels, allowing you to move them around the house. Typically, such a unit is powerful enough to humidify two rooms or so. Some might be more powerful, depending on the specifications of the products. While they might be more powerful than whole-house units, they take up a lot of space, while being quite pricey, as well.
Meanwhile, a single room humidifier usually requires a lower upfront investment. Such a unit also allows you to control the humidity levels but in a much more restricted space. It is highly suitable for a bedroom, office, so on and so forth, having its limitations in terms of space coverage.
See our; Top-rated Travel Humidifier reviews
Choosing between Warm and Cool Mist Humidifiers: Which One Can Combat Coughing?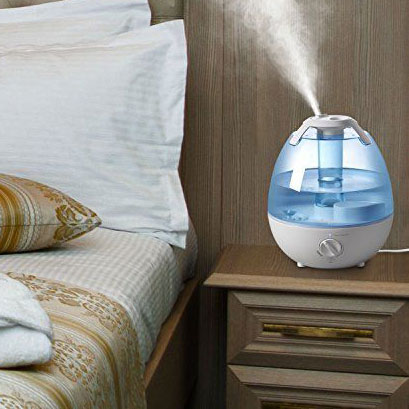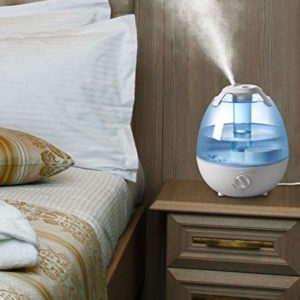 Even if we've focused primarily on cool mist humidifiers, we'd like to address a common question, namely what is more beneficial: a warm or cool mist unit? More specifically, which one is better for coughing or respiratory problems?
Expressly, we couldn't say that one category is superior to the other, as each one comes with its specifications. Nevertheless, a type of unit might be better suited for you, depending on your needs.
For example, in the case of respiratory problems and coughing, you should know that warm air – namely warm and moist air, could trigger the aggravation of the condition. However, in general, by the time the vapor reaches the lower airways, the mist will be the same temperature as the air, no matter if it started out cool or warm.
On a different note, if you are concerned about bacteria and mold, then a warm mist humidifier is a better alternative. That's because such a unit kills mold and bacteria while the water is boiled.
Should You Get a Humidifier that Has a Filter or One that Doesn't?
As you know by now, there are numerous humidifiers on the market – some have filters, some don't. The question that naturally follows is: which option is better? With that in mind, let's assess the main characteristics of humidifiers with and without filters.
With a Filter
If you're suffering from allergies, asthma, COPD, or other conditions, it might be more sensible to get a unit with a filter. At the same time, if you want to get a humidifier for a nursery or children's room, the inclusion of a filter will ensure that the air is as clean as it can be.
Mineral dust, which is also referred to as white dust, is contained in the filter. Therefore, it won't end up on your furniture, curtains, so on and so forth.
Generally speaking, filtered humidifiers are more conveniently priced than their counterparts.
These models are usually easier to operate since they have a straightforward, basic design.
Humidifiers equipped with filters also have fans, which produce a very specific noise. Some people could find that noise comforting. But it's definitely a matter of personal preference.
Without a Filter
Humidifiers that don't have a filter don't require a fan. Therefore, they are much quieter than their counterparts. So, if you are a light sleeper, such a unit might be better suited for you.
They are easier to maintain, considering that they don't require a lot of cleaning.
Since you don't have to replace the filter on a regular basis, you could save money over the course of time.
Usually, if you choose a unit without a filter, this would require you to utilize distilled water.
Getting such a unit might require you to use another form of air purification, such as filters on your HVAC system. Another option could be investing in an air purifier.
Units without filters typically come with a range of advanced characteristics.
The Main Types of Cool Mist Humidifiers
Now we'd like to talk about the main types of humidifiers and how they work. Let's see what you should know in this respect.
Evaporative Humidifier
Many people are undecided between evaporative and ultrasonic humidifiers. When it comes to an evaporative unit, there is a wick inside the appliance, whose purpose is to pull the water from the tank and up to the top of the wick. Afterward, the air is dispersed by a fan, leading to evaporation.
For the most part, evaporative humidifiers are considered to be the most common type. Usually, these units come with a filter, requiring filter maintenance.
Air Washer Humidifier
In reference to air washer humidifiers, such a device is a mixture of air humidifiers and air purifiers. Thus, it adds therapeutic moisture to the breathable air, while eliminating allergy-triggering elements from the air.
Ultrasonic Humidifier
Moving on, an ultrasonic humidifier transfers the water through a transducer. Essentially, the transducer breaks the molecules apart, which leads to creating a very fine mist. The highlight of these units is that they operate more quietly, and, usually, they don't have a filter.
Steam Vapor Humidifier
And lastly, steam vapor humidifiers depend on electricity to create steam. This type of unit isn't recommended for families with children. That's because the hot water inside the humidifier can be spilled and cause complications.
Wrap Up
To conclude, one thing is for sure, looking for the best humidifier for a bedroom or the best cool mist humidifiers for small rooms comes with its challenges. But we really hope that our cool mist humidifier reviews have served as a good starting point for your search.
As a rule of thumb, before making an investment in this direction, it makes sense to analyze the individual specifications of the unit, to ensure that it will address your needs. This way, you will be 100 percent happy with your purchase.
One thing is certain – once you make this investment, you'll see a great distinction in the quality of your indoor air.