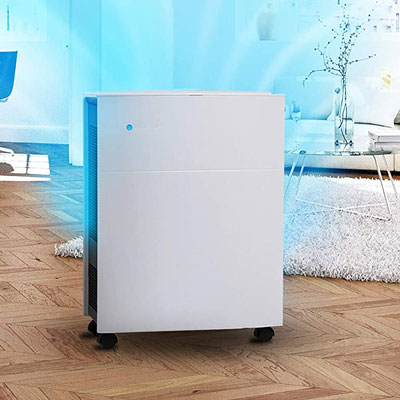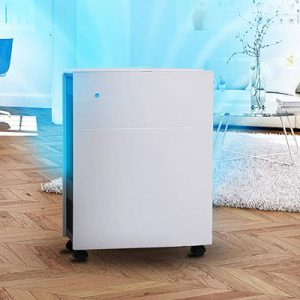 Nowadays, indoor air tends to be just as polluted as outdoor air. No matter if the pollution is coming from the outside or breeding in from the inside (e.g. mold), you need to ensure that at least the air you breathe from indoors is clean. This is something that Blue Air understood from the very beginning – which is why this Swedish manufacturer began to create their best BlueAir Air purifiers.
If you are looking for a model with particular features, you might want to read some BlueAir Air purifier reviews. This way, you will be able to ascertain yourself of the unit's quality, and you will also find out which one suits you the most. While all products are qualitative, each Blue Air model has its specifications – all depending on your needs and your home. With the right model, you should be protected from allergies and respiratory diseases – every day and every night.
Best BlueAir Air Purifier Comparison Chart
PRODUCT
DETAILS

Blueair Classic 605 Air Purifier with HEPASilent Filtration

Price:

$$$$$

Dimensions:

13 x 20 x 26″

Weight:

31 pounds

Coverage:

up to 775 sq ft.

Speed:

3

Efficiency:

99.97%

View On Amazon

Blueair Blue Pure 121 Air Purifier

Price:

$$$

Dimensions:

13 x 13 x 28.2″

Weight:

18.2 pounds

Coverage:

620 Square Feet

Speed:

3

Efficiency:

99%

View On Amazon

Blueair Classic 205 Air Purifier for Home with HEPASilent Filtration

Price:

$$

Dimensions:

8 x 17 x 21″

Weight:

22 pounds

Coverage:

280 sq. ft.

Speed:

3

Efficiency:

99.97%

View On Amazon

Blueair Classic 403 HEPASilent Air Purification System

Price:

$$$$

Dimensions:

11 x 20 x 23″

Weight:

33 pounds

Coverage:

370 sq. ft.

Speed:

3

Efficiency:

99.97%

View On Amazon
Best BlueAir Air Purifiers – (Recommended Picks)
1. Blueair Classic 605 Air Purifier with HEPASilent Filtration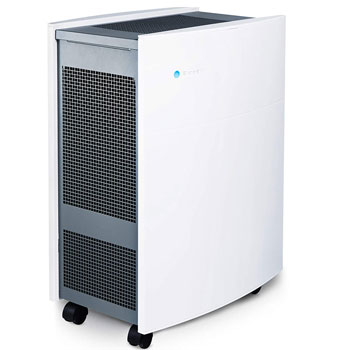 If you're looking to get rid of allergens in a classic way, then you might want to give this unit a try. Featuring the Blue Air HEPASilent technology (an electrostatic barrier) and a true HEPA system, this air purifier may easily remove 99.97% of the pollutants from the air. These contaminants include dust, pet dander, mold, and pollen – making it a great choice for those that are dealing with allergies.
With a CADR rate of 500 cubic feet of air per minute, this unit may change the air in the room up to 5 times per hour – ensuring that the air quality in your home remains constantly clean. You may also choose between any of the three fan speeds, depending on the air quality in the home (highly polluted air might require the highest speed).
This unit was made for ease of use. Not only can you access it from your phone using the smartphone app, but it is also compatible with Amazon Alexa. You can set the unit from the comfort of your bed, without having to physically move to the unit.
Despite being quite big, the Blue Air Classic 605 air purifier is actually silent. At the highest setting, it only reaches 32 dB, sounding just like a whisper – whereas the highest goes to 62dB. This sound is no louder than your average floor fan even though it has coverage of 775 square feet.
Pros
Efficiently draws contaminants from the air and eliminates them
Very simple to use and connect
Features a very silent operation
Cons
It emits a chemical-like odor
The app is rather faulty
In comparison to other Blue Air units that are made for small to medium-sized rooms, the 605 model can easily cover a very large area. Moreover, it is less expensive, mostly because it does not have any overly fancy features to bring the price up.
2. Blueair Blue Pure 121 Air Purifier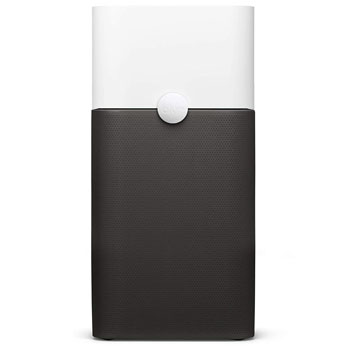 If you are looking for an air purifier that does not only just clean the room efficiently, but also looks good, then you might want to give this model a try. Along with its tall design that fits with every modern room, this unit also provides a 360-degree airflow over a room up to 620 square feet.
This unit comes with two washable pre-filters that can catch large particles such as dust and allergens, but it also features a 3-part filtration system that can capture around 99% of the air pollutants. Any lingering odor that remains in the air (e.g. from mold, smoke, or pet odors) will be cleared by pulling the air through the activated charcoal filter.
Also, bacteria and mold are not the only microorganisms that this unit can handle. With the ability to deal with particles down to PM 2.5, this one can also eliminate viruses from your home.
Despite its generous size, this unit is very quiet. Even when it is set at the highest setting, it is no louder than a ceiling fan – and at the lowest setting, it is barely a whisper in the background. This is why it is a good air purifier to set even in the bedroom, as it will not bother you in the slightest.
Pros
It has quite the large coverage area
Consumes very little power
Quite aesthetic design
Very quiet operation
Cons
The air purifier needs to be turned off manually
In comparison to other Blue Air purifiers, this one looks more aesthetically pleasing and it can be easily added into a room with a more modern vibe. That being said, its coverage is a bit smaller in comparison to other similar units – but it is nonetheless very efficient.
3. Blueair Classic 205 Air Purifier for Home with HEPASilent Filtration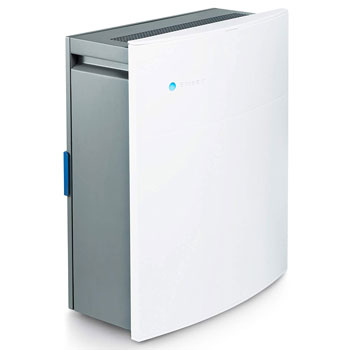 If you live in a small home that has rooms up to 300-400 sq. ft., then this unit may easily offer all the efficiency that you need. The HEPASilent technology attracts the contaminants into the filters and they're also put through the electrostatic charge that will kill them right away.
This unit is Wi-Fi-enabled – which means that you will be able to connect to it through the app. It is also compatible with Amazon Alexa. This makes it quite easy to control from wherever you may be in the house – even if you are nowhere near the unit.
The Blue Air Classic 205 features a CADR rate of 180 cubic feet every minute, changing the air about five times within the hour. You will be able to set the fans on three speeds, depending on how polluted the air in your home is – but at the same time, the unit has a sensor that can automatically detect your home's air quality. This way, it may adjust itself upon the need of the air.
The unit is whisper-quiet, particularly if you put it at a lower setting. This allows you to set the purifier in your bedroom, without worrying that the noise will bother you in your sleep.
Pros
Very efficient in battling allergens and harmful pathogens
Perfect for small to medium-sized rooms
Very easy to clean and maintain
Extremely quiet when at the lowest setting
Cons
It produces a rather rotary or rattling sound after a period of use
The app is quite difficult to use but you should grasp its features after you use it a couple of times.
The Blue 205 model sets itself apart from other models such as the 403 or the 121, in the sense that it may be set remotely. No matter if you do so through the provided app or Amazon Alexa, you will not have to bother with going to the unit yourself whenever you want to turn it off.
4. Blueair Classic 403 HEPASilent Air Purification System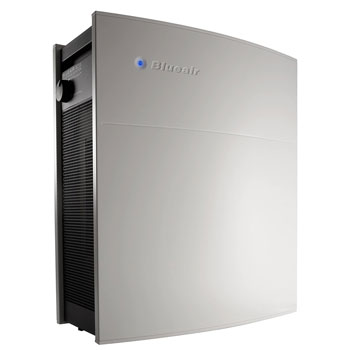 If you have a room up to 365 square feet that need to have its air periodically purified, then you might want to look into this unit. Not only will it efficiently remove the airborne pathogens within rooms of that size, but it will also fit in with almost every modern room design. It even won a permanent spot within the National Design Museum of Stockholm.
The Blue Air 403 delivers 24 cubic feet of air per minute – which means that the air in the room will be changed up to five times. The HEPASilent technology also ensures harmful pathogens are destroyed using electricity shocks, keeping the air clean. It can easily deal with particles as small as 0.1 microns.
The air purifier itself is very easy to maintain – mostly because the unit tells you what you have to do when you have to do it. For example, you have a magnetic timer filter that will send an alert whenever the filter needs to be replaced with a clean one. This unit comes with washable filters that you may clean after each use.
Pros
Quite an intriguing design
Very quiet action at a low setting
Very efficient at removing both viruses and bacteria
Very easy to clean and maintain
Cons
It is somewhat bulky
It makes a clicking noise after a few months of use
Like the Blue Air 605, this model has a good capability of cleaning the air within a room. It's very easy to clean in comparison to other units – and while it is one of the few that can't be accessed wirelessly, it is still useful and effective.
Blue Air Customer Support and Warranty – Things to Know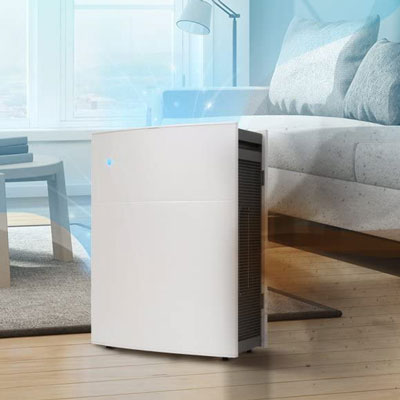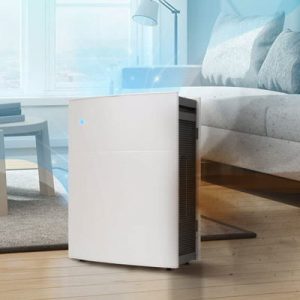 The Blue Air staff may be reached at all times through their customer support on the official website page. If the answer to your questions is not on their FAQ page, then you may contact them via telephone or through the email, they made available on the website. Your questions will be promptly answered the moment someone becomes available.
Each air purifier that you purchase will also be accompanied by a warranty – in most cases, five years. You get a limited warranty, which means that if something malfunctions with your air purifier, you will be able to get support. The company also features a fairly convenient return policy.
Blue Air Important Features
Blue Air has always been a company that appreciates quality over everything – which is something quite noticeable through its main features. Ease of use was something that was highly worked on, ensuring that customer satisfaction was always at the top ranks. Here is why people keep coming back to the air purifiers provided by Blue Air, no matter if they need an air purifier for mold or one for pet dander.
Most companies use new materials when it comes to creating their air purifiers. However, Blue Air makes use of recyclable materials made from responsible sources, to create a low impact on the environment. Plus, not only are the materials sustainable, but the units themselves were made to consume as little as possible. This is why they all received an Energy Star rating, to prove to you that not only do they care about the power bill, but the environment as well.
Like the Levoit air purifier, one of the main focuses of Blue Air is on ease of use – in other words, ensuring that the product is intuitive and easy to set in this day and age. This is why most of the Blue Air purifiers can be connected through a phone app, so that you may access the settings remotely. Plus, the air purifier may detect the quality of the air in real-time, automatically adjusting the speed so that you do not use more energy than it is necessary.
Last but not least, Blue Air purifiers are made using durable bodies and materials, made so that they can withstand the test of time – similar to good quality Winix purifiers. Its designs are also intuitive, with the control panels easy to understand and with indicators telling you precisely when you need to change the filters. The HEPASilent filtration system ensures that the air remains clean at all times – with the purifier being as quiet as possible.
Wrap Up
Finding a good quality air purifier that is sold at an affordable price can be a challenging task – which is why you may want to invest in the best BlueAir Air purifier to keep your home clean. They are quite easy to use, and since they are made with sustainability in mind, they are the ideal choice for the environment as well.  
Hopefully, our BlueAir Air purifier reviews allowed you to make a calculated choice so that when you finally breathe in the air, it feels nice and clean. Each product has been tried and confirmed, ensuring that the brand is the perfect choice for someone that is dealing with allergies.