Levoit is a popular brand in the United States that manufactures various products for people's homes – air purifiers included. The U.S. based company was established in 2017 and its focus is the happiness of its clients. They want to create items that make people's homes more comfortable, and as such, they were able to come up with air purifiers that improve the environment you live in. This is why they can provide both physical and psychological relief.
Their air purifiers come in a wide range – thus, choosing the best Levoit air purifiers might be more difficult than you think. However, we collected information about the company and its products to help you make a better life for yourself by using the right items. As such, below are some Levoit air purifier reviews, as well as some information that may come in handy.
Best Levoit Air Purifiers Comparison Chart
PRODUCT
DETAILS

LEVOIT Core 300 Air Purifier

Price:

$$

Dimensions:

8.7 x 8.7 x 14.2″

Weight:

8.9 pounds

Coverage:

215 sq. ft.

Speed:

3

Efficiency:

99. 97%

View On Amazon

LEVOIT Vital 100 Air Purifier

Price:

$$$

Dimensions:

12.8 x 6.4 x 16.1″

Weight:

10.25 pounds

Coverage:

Up to 300 sq ft

Speed:

3

Efficiency:

99. 97%

View On Amazon

LEVOIT Vista 200 Air Purifier

Price:

$

Dimensions:

7.9 x 7.9 x 12.9″

Weight:

4.95 pounds

Coverage:

up to 161 square feet

Speed:

3

Efficiency:

99.97%

View On Amazon

LEVOIT LV-H133 Air Purifier

Price:

$$$$

Dimensions:

23 x 12 x 12″

Weight:

21 pounds

Coverage:

538 sq ft

Speed:

3

Efficiency:

99. 97%

View On Amazon

LEVOIT LV-H134 Air Purifier

Price:

$$$$$

Dimensions:

32.2 x 16 x 15.3″

Weight:

27.2 pounds

Coverage:

up to 710 ft2

Speed:

3

Efficiency:

99.97%

View On Amazon
Best Levoit Air Purifiers (Editors' Picks)
1. LEVOIT

Core 300

Air Purifier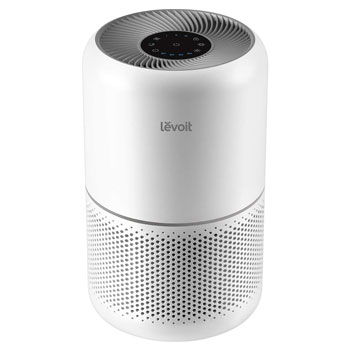 This product from Levoit is able to cover up to 215 square feet, being amazing for larger rooms. It is silent, as it operates at only 24db thanks to QuietKEAP Technology. Also, it has an improved, HEPA filtration system. It can remove 99.97% of fine particles, even as small as 0.3 microns. It doesn't produce ozone and it also has a timer for 2/4/6/8 hours.
The great advantage of this air purifier is the fact that you can also use it in larger rooms because it has a pretty wide area coverage. Moreover, if you're someone who cannot stand noise, then you will love this unit – it can have a quiet operation and allow you to relax in your own home and even sleep while it operates. Also, the HEPA filtration system takes care of allergens for a symptom-free life. And since it is an ozone-free purifier, it doesn't produce any pollution either.
Overall, this is an air purifier suitable for people suffering from allergies or people who smoke or live with a smoker.
Pros
It can operate silently
It removes most airborne particles, even very small ones
It doesn't produce ozone
Comes with a timer
Suitable for larger rooms
Cons
It doesn't come with an air quality indicator. Thankfully, it's easy to feel the change in air quality, so you won't really require an indicator.
If you want a high-quality air purifier that doesn't miss any particle from your air, then this is one to consider. It will certainly improve your air quality. It is similar to all the other products on our list given that it uses top-notch HEPA filtration.
2. LEVOIT

Vital 100 A

ir Purifier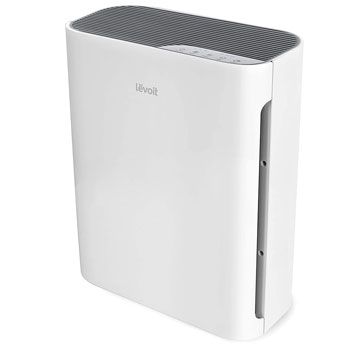 This is a great energy-saving air purifier. It only has a rated power of 55W, and even if you use it 24 hours, it will only cost $1.60 per month / $0.18 per kWh. It can do its job very quickly – it takes only 30 minutes to purify the air in a 500 ft2 room, and 18 minutes to purify a 300 ft2 room. Additionally, it uses HEPA filtration to capture airborne particles, which is very effective as it can get rid even of 0.3-micron small particles. It operates at as little as 23dB. It is ozone free too.
So, if you're on a budget, you will want to save as much on electricity as you can. Luckily, this is possible with this air purifier because it can save electricity even if it operates 24 hours a day. In fact, you may not even need to use it that much, considering it can purify the air very quickly. Thanks to being so fast, it can purify even larger rooms almost immediately, being perfect for kitchens, bedrooms, living rooms, nurseries, offices and more. You can also rest assured that it will rid the air of any particles and pollutants.
It's a great product for anyone who wants to escape their allergy symptoms and/or wants to save on electricity costs.
Pros
Space-saving design
Ozone free
Quiet operation
HEPA filtration system
Quick purification
Cons
There may be a buildup of particles on the clean air outlet over time. You have to cover the air outlet when not in use, to avoid dust falling, and you can also clean it and get rid of the buildup.
You can try this product if you want something decently priced and very effective, as it removes air particles in larger rooms, and it does that very quickly. Just like the previously presented model, this is an ozone-free air purifier.
3. LEVOIT

Vista 200

Air Purifier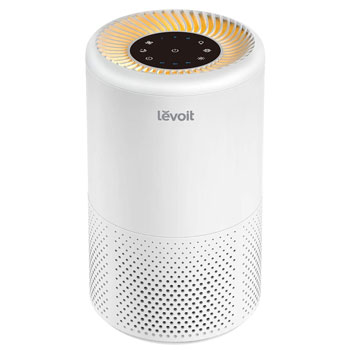 A unit that is ozone free is a great addition for anyone, and thankfully, this is what you can obtain with the product we're about to present. This air purifier doesn't use any UV or ions, so there is no ozone produced. It also has a 3-stage filtration, respectively a pre-filter, a true HEPA filter, and a high-efficiency activated carbon filter. It also comes with a sleep mode for silent operation and it is able to save on energy costs. Moreover, if you choose it, you will get 3 fan speeds and a gentle night light too.
It is the right air purifier if you want to live in a healthy environment and cause no ozone pollution whatsoever. However, there are many other things that make this unit worth having. It will produce no noise because it has a sleep mode that runs at the lowest fan speed. As a result, you will have an undisturbed sleep even if it's on. The filtration system will eliminate allergens, bacteria, dust mites, odors and anything of the sort. Also, the 3 fan speeds make this product great for any air quality level.
Moreover, the gentle night light will make sure that you will not be disturbed by light while you sleep, promoting a perfect sleeping environment. So, those who want to sleep properly while having the air purifier on could look into this product. It is also suitable for those who want to save on energy costs.
Pros
Great for creating the perfect sleep environment
Comes with 3 fan speeds
3-stage filtration
Has an auto shut-off timer
Can save on energy costs
Cons
It may start in a different mode than the one you set previously. Luckily, the controls are easy to understand and set.
It comes for a very good price and it's affordable for people with multiple incomes. What makes it great is the fact that it can save on energy costs just like the previous model.
4. LEVOIT

LV-H133

Air Purifier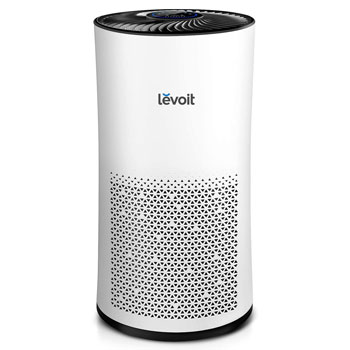 The next air purifier on the list is this unit for large rooms. It has a wide coverage – in fact, it can deal with rooms as large as 881 ft2. What's even better is that it will take it only 30 minutes to purify the entire 881 ft2 room. On the other hand, it will purify an area as large as 538 ft2 in 18 minutes. The operation is really quiet – producing only 25Db. Because of the HEPA filtration system, it can remove most particles in the air, as well as pet fur and pet odors. It also comes with a LED display and timer, so you can set the purifier to operate as you want.
Since it covers such a wide area, this is a wonderful air purifier. It will not miss any spot and will certainly provide you with the desired air quality even in large rooms. The HEPA filtration system will rid you of 99.97% or 0.3-micron particles and, more than that, it will also make sure you inhale fresh, clean air with no bad smells. Moreover, if you want to sleep or relax, you can rest assured there will be no noise coming from this unit.
Overall, people who own pets might find this unit amazing. Since odors and pet hair might be a problem for them, the air purifier will help them solve these issues.
Pros
HEPA filtration
LED display and timer
It can operate very quietly
It is safe and certified
It covers very large areas
Cons
It can give off an odor after you start using it and you can get rid of the smell if you change filters regularly.
If you own pets, this is a product worth spending your money on – it does a great job of removing odors. Moreover, it works without causing noise, just like the other Levoit models on the list.
5. LEVOIT

LV-H134

Air Purifier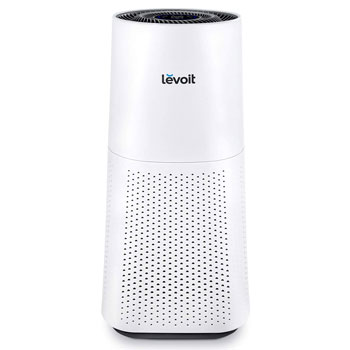 If you want something effective in terms of air purification, then say no more – Levoit has this LV-H134 model for you. It has a smart auto mode that detects particles in the air with a laser sensor. So, it will detect the mass per volume, and adjust the fan speed according to it. It can also save energy, making sure you will not spend a lot on electricity. On top of that, it is great for large rooms, with the ability to purify areas up to 1170 ft2. It only takes it 20 minutes to do so.
What's great with this model is the fact that it will never miss any particles. On the contrary, it will detect even those as small as 0.3 microns and remove them thanks to the HEPA filtration. And even if you have a very large room, it will be able to purify it and get rid of smells, allergens and anything similar. With a 360-degree suction, the air will be taken from all sides to ensure a thorough purification of the house.
So, this is certainly a great unit for those who own pets, as well as people who smoke a lot or live with someone who smokes.
Pros
Can get rid of all particles and odors
Purifies all air, even in large rooms
Has a smart auto mode
Can save energy
It isn't noisy
Cons
It might produce a plastic smell
Similar to all the products on our list, this one also works quietly while removing all odors and particles from your air. Therefore, it's a great investment, especially considering it can deal with very big spaces too.
Levoit's Customer Service and Warranty
For its products, Levoit usually offers a 1-year warranty, so you can have coverage in case there are specific issues with your purifier. At the same time, if you think that this is not enough, the company gives you the option to get an additional warranty year. In order to get the extension, you have to register your product, which can be done on their official website.
To contact the manufacturers, you have a few options. One of them is completing a form on their website where you introduce your name, e-mail address, as well as your message and a subject for the message. But you also have the option to simply email the company or call them. The address and phone number will be found on the Levoit site.
Characteristics of Levoit Air Purifiers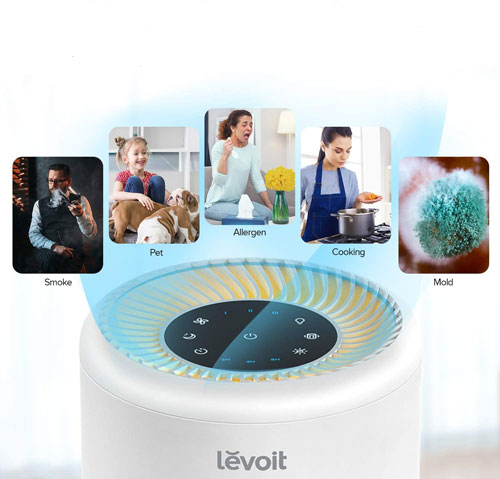 If you want to end up with the best air purifier for mold and viruses, then you must know the specific characteristics of Levoit units. This way, you will be able to choose the right item for your needs.
For instance, Levoit uses the HEPA filtration system with its products. This is a widely known technology – you can also find it on Blueair air purifiers. HEPA filtration is known to get rid of most particles in the air. Even if they are as small as 0.3 microns, the filter won't miss any of them.
Levoit air purifiers also come with 3-stage filtration. Therefore, aside from the HEPA filter, they also have the preliminary filtration and the activated carbon filter. While the preliminary one will deal with bigger particles, the activated carbon one will absorb odors and smoke. This is similar to some Germguardian air purifiers that also have a 3-stage filtration system.
Another thing to note about Levoit units is that they come in different sizes, styles, and designs, so they can be used in various rooms. As such, it's easy to find a model that is suitable for your house.
Last, but not least, many of their products feature adjustable fan speeds. Therefore, you will be able to achieve the desired air quality, as the various fan speeds will all have a certain efficiency.
Wrap Up
Levoit cares about its customers, there's no doubt about that. Otherwise, they wouldn't come out with such great products made for all needs and preferences. Hopefully, our Levoit air purifier reviews will help you make up your mind. After analyzing their pros and cons, you will be able to choose the best Levoit air purifiers for your house.