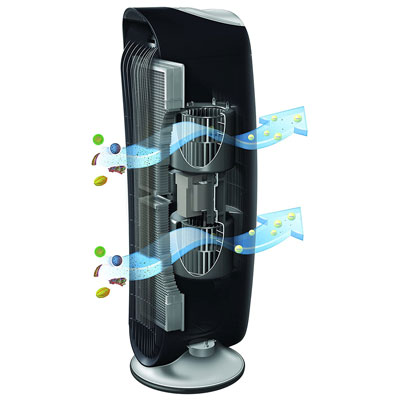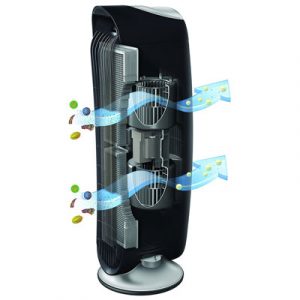 Honeywell is a brand known for multiple products, ranging from aerospace systems to engineering services and more. The company is popular all over the world – it's an American multinational brand and it's also part of Fortune 100.
In this article, though, we are going to discuss the air purifiers made by the brand. An impressive trait that many people noticed about these particular units is their power. They have strong fans that can work fast enough to purify the air as quickly as possible. Not to mention that Honeywell also created air purifiers for different room sizes, thus making sure they meet the requirements of multiple people.
The company is also great at manufacturing air purifiers that make your household air cleaner and fresher, as they can reduce bacteria, airborne viruses, and mold spores. This is something the best Honeywell air purifiers can do with ease. And it's one more reason why this is the number 1 brand recommended by allergists.
Read on if you're looking for such a unit. Below, you will find some Honeywell air purifier reviews and some brand information that will show you just how dedicated this company is.
Best Honeywell Air Purifiers Comparison Chart
PRODUCT
DETAILS

Honeywell QuietClean Oscillating Air Purifier with Permanent Washable Filters

Price:

$$$$

Dimensions:

28.7 x 11.2 x 10″

Weight:

14.5 pounds

Coverage:

170 sq ft

Speed:

3

Efficiency:

99%

View On Amazon

Honeywell True HEPA Air Purifier with Allergen Remover

Price:

$$$

Dimensions:

13.9 x 8.9 x 13.5″

Weight:

8.52 pounds

Coverage:

Up to 155 Square Feet

Speed:

4

Efficiency:

99.97%

View On Amazon

Honeywell DH-HPA060

Price:

$$

Dimensions:

13 x 9.9 x 17.5″

Weight:

9 pounds

Coverage:

75 sq. ft.

Speed:

3

Efficiency:

99.97%

View On Amazon

Honeywell HFD320 AirGenius 5 Air Cleaner/Odor Reducer

Price:

$$$$$

Dimensions:

9.9 x 9.7 x 26.8″

Weight:

17.9 pounds

Coverage:

250 square feet

Speed:

5

Efficiency:

99.9%

View On Amazon

Honeywell HHT270W HEPAClean Tabletop Room Air Purifier

Price:

$

Dimensions:

9.7 x 12.6 x 6.6″

Weight:

3 pounds

Coverage:

85 square feet

Speed:

3

Efficiency:

99%

View On Amazon
Best Honeywell Air Purifiers – (Top Picks)
1. Honeywell QuietClean Oscillating Air Purifier with Permanent Washable Filters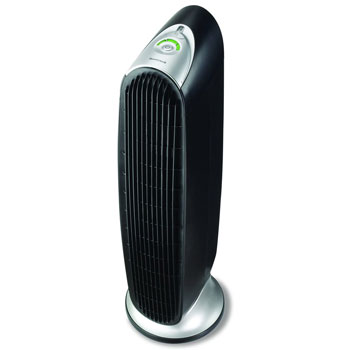 With amazing filters that ensure the purity of your home's air, this Honeywell air purifier can help you when you need it the most. It comes with a permanent and washable pre-filter, as well as a Clean filter. Besides, it has some quality replacement filters that are meant to reduce VOCs and odors. It is an oscillating air purifier that captures most airborne particles. In addition, the product is suitable for medium-sized rooms and can circulate the air for up to 5x an hour.
What's amazing is that the different filters all come with their own benefits. Basically, the permanent filters help with the 3 cleaning levels of the tower air purifier. They can be washed and maintained for longer periods, to prevent them from being affected by the particles they collect. On the other hand, you have the replacement filters, which are useful in getting rid of odors in your home and VOCs. The unit has permanent filtration to get rid of 99% of airborne allergens and other particles.
This air purifier is great for people who suffer from allergies and want to keep allergens away, but also for those who want a quiet operation.
Pros
Comes with washable filters
Has 3 cleaning levels
Suitable for medium-sized rooms
Air is circulated up to 5x an hour
Captures up to 18 times more pollutants compared to ionic air purifiers
Cons
Might end up cooling the room too. This is not an issue during summer, but during winter, you might want to consider having the heating readily available.
This air purifier might not be the most silent one, but it's quieter than many other units on the list. It allows you to relax in a silent environment and the white noise might cancel the noise made by neighbors or passing cars.
2. Honeywell True HEPA Air Purifier with Allergen Remover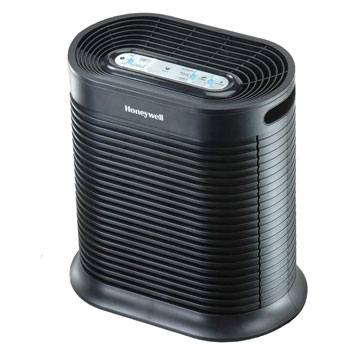 This is an air purifier designed for medium rooms, which means that it would be suitable for most houses. It can work in a room up to 155 square feet. It is easy to use and can operate very quietly. What's more, this product can filter and circulate the air up to 5 times an hour. This way, it helps make the air fresher. Additionally, it features easy tap controls and an auto-off timer. Up to 99.97 percent of airborne particles will be captured (even those as small as 0.3 microns) because the unit has a HEPA filter.
It's great to have an air purifier that can deal with as many rooms as possible, and if you have medium-sized rooms, then you can rest assured that the unit will do the job properly. You just need to use the tap controls and make the settings. Moreover, the auto-off timer will shut down the unit when you want to. What's even better is that the unit is amazing at getting rid of dust, pet dander, pollen, bacteria and anything of the sort. You will be able to breathe healthier, fresher air.
In case you're someone who suffers from allergies or other respiratory problems, this unit is what you should consider, due to the HEPA filter.
Pros
HEPA filtration
Tested to ensure good performance
Easy to use
Can capture larger and smaller particles too
Makes the air fresher
Has Honeywell replacement filters
Cons
It may be a little noisy. However, as long as you don't leave it on while you sleep or concentrate on something, it should all be good.
This purifier is similar to the QuietClean model previously mentioned, in the way that it is perfect for medium rooms and it can prevent allergy symptoms.
3. Honeywell DH-HPA060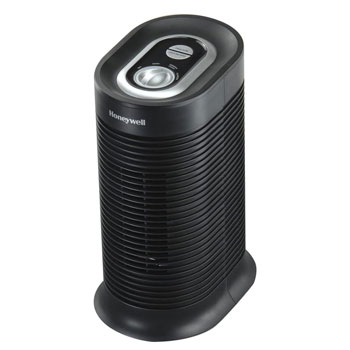 If you're someone who deals with allergies, then you might want to give this Honeywell air purifier model a try. It can help trap up to 99.97% particles in the air, even if they are as small as 0.3 microns. Apart from that, the unit filters and circulates air 5 times an hour. It was made for small rooms, about 75 square feet – therefore, it can be used in the kitchen, bathroom or a small room in your house.
Since the Honeywell purifier has HEPA filtration, it will make sure to collect most particles in the air, even those that are very small. As a result, you will breathe fresher air, which will not trigger any of your allergies. You'll be able to relax and sleep more comfortably in your own home.
People who have pets, smoke or live in the same house with a smoker should consider this purifier. The product will remove odors from the air and also keep pet hair away.
Pros
Can circulate the air in your house up to five times per hour
HEPA filtration system that keeps away most airborne particles
Great to use in small rooms
Rids you of bad smells or pet hair
Quite pocket-friendly
Cons
It might be too noisy for some. As long as you don't leave it on all the time or while you sleep, this may not be such an issue.
Just like every other Honeywell unit on this list, the DH-HPA060 model is something that should be used by people suffering from allergies. It's a good product and it comes for a very good price, making your home air fresh and breathable.
4. Honeywell HFD320 AirGenius 5 Air Cleaner/Odor Reducer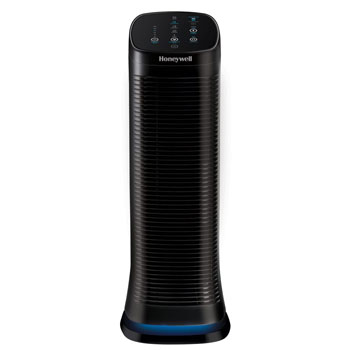 Odors can be annoying to deal with, especially if you are sensitive to them. That is why this tower air purifier could be a great acquisition in this regard. Basically, the air purifier can circulate and filter the air in your house up to 5 times, to make it fresh and odor-free. Additionally, the air purifier can remove dust, allergens, bacteria, VOCs and anything else that affects the quality of the air. It can work quietly and is a product that should be used in large rooms – up to 250 square feet. A permanent, washable filter was also included, and it's one of the things that helps capture all the particles in the air.
It's great that this unit has a filter that is EnergyStar certified and AHAM verified, as it shows how effective it can be against pollutants and particles. But that's not all – the filter is a permanent one, which means that it won't need replacements and you can save money as a result. However, it does come with a VOC absorbing prefilter, which will have to be replaced every 3 months. You can purchase this air purifier either by itself or with a filter package.
People living in bigger houses, or those having a larger room will find this item great, for the simple fact that it can purify the air in a wider area. At the same time, those sensitive to allergens or odors might want to consider this unit too.
Pros
Automatic shutoff timer
Comes with a permanent washable filter and a VOC absorbing prefilter
Quiet operation
5 air cleaning settings
Easy to use
Cons
The blue light cannot be turned off at night. You will have to move the purifier to another room or turn it around, so it doesn't bother you.
It's a great product if you don't want to struggle too much with the settings and want something to purify a larger area. It also works similarly to the Honeywell QuietClean Oscillating air purifier, as it also removes odors and VOCs from your air.
5. Honeywell HHT270W HEPAClean Tabletop Room Air Purifier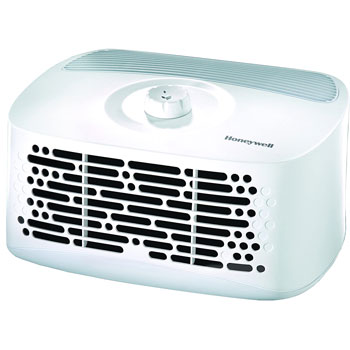 For a small price, you can get this Honeywell air purifier that can improve the air quality in a small room. It works for areas up to 85 square feet. It comes with a HEPA-type filter and a built-in layer of activated Carbon. Aside from having the power to get rid of particles (99% of them), it can also deal with those as small as 2 microns only. It has an electronic filter change reminder and 3 air cleaning levels.
As mentioned above, it can clean the air in small rooms and leave them as fresh as you need. With its particle removing abilities and the dual filtration system, there will be no irritating particles left in your home's air. Fortunately, the air purifier can also eliminate odors – so, it's perfect for homes where smokers live, or households with pets.
This unit is also suitable for people who work in a small office or have a small bedroom, as well as people suffering from allergies.
Pros
Has a dual filtration system to make sure everything that pollutes the air is eliminated
Has 3 air cleaning levels
Will remind you when the filter needs to be changed
Very affordable
Circulates and filters air up to 5x per hour
Cons
It has a noisy motor. It is better used when nobody is sleeping, or when you're not performing an activity that requires concentration.
If you're someone with a smaller budget, but you still want an air purifier, this one will do the trick. On top of that, it is just the same as every other Honeywell product on the list in the way that it circulates air up to 5 times an hour. It's a great investment for those with small rooms.
Features of Honeywell Air Purifiers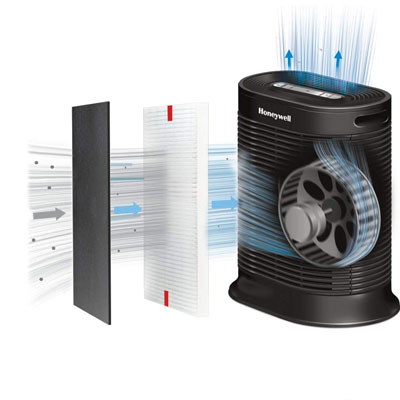 There are certain features that all Honeywell air purifiers have. So, if you're looking to get such a unit, here is what you need to know.
It's no surprise that HEPA filters are some of the most high-quality filtration systems that can be added to any air purifier. Basically, these filters are so appreciated for the simple fact that they can trap up to 99.97% of airborne allergens, as well as very small particles of 0.3 microns. It's something that you shouldn't overlook. Thanks to this, Honeywell units can offer the same quality as Levoit air purifiers, as those are provided with HEPA filters too.
Can Reduce Mold Spores, Viruses, and Bacteria
Everyone wants to live in a healthy environment and air purifiers can help in this regard. So, Honeywell purifiers can remove mold spores and reduce airborne viruses and bacteria. Considering this feature, they are similar to Holmes air purifiers that can also maintain your house healthy and free from dangerous particles.
Created for Various Room Sizes
This is an important consideration because every house is different. As such, Honeywell created air purifiers that fit in multiple spaces – such as tower purifiers for larger rooms and tabletop ones for small spaces. Because of this, it's extremely easy to find a suitable product for your needs.
Customer Service and Warranty
The products offered by Honeywell are usually covered by a Limited Warranty – this can be extended only to the first end-user. Besides, it's important to know that the warranty is non-transferable.
The warranty doesn't apply anymore if you tried to modify the air purifier yourself, or if you misused or abused it. If the damage was done by something that is not in the control of the company, such as a fluctuation or lightning in the electrical power, the warranty will not help you either.
Moreover, if you're not satisfied with the product, you can return it within 30 days. Here, you can find out more about their return policy.
Honeywell can be contacted by filling out a form that asks for your name, e-mail and, of course, the message you have for the company. At the same time, you have a phone number and an e-mail address that allow you to reach the company in case of issues. They can be found on the brand's official website.
Wrap Up
As you can see from the Honeywell air purifier reviews, the brand means business. They make sure to create some of the most amazing units, to help you maintain the air quality in your house and breathe fresh air all the time. Hopefully, this guide will help you buy the best Honeywell air purifiers.