Owning a warm mist humidifier can have many benefits for your health. Basically, dry air can have an impact on you, such as giving you a sore throat, cracked skin, and chapped lips. A warm mist humidifier can relieve these things, making the air more "bearable" for you.
Did you know that warm mist humidifiers also sterilize the water when boiling it? Before releasing it into the atmosphere, this kind of unit kills mold and bacteria in the tank. This makes it amazing if you suffer from asthma because it doesn't trigger or aggravate your symptoms.
It's important to discover the best warm mist humidifier for a small room because each product is different and offers specific features. Choosing a good one is not easy, so we're going to offer you a hand through this article. Our warm mist humidifier reviews will help you find one for your home and put an end to dry air symptoms.
Best Warm Mist Humidifiers Comparison Chart
PRODUCT
DETAILS

Vicks Warm Mist Humidifier

Price:

$

Dimensions:

12 x 7.9 x 14.2″

Weight:

4.25 pounds

Water capacity:

1 Gallon

Operation Time:

24 hours

Highlights:

• Filter Free operation • Whisper-Quiet Operation

View On Amazon

TaoTronics Warm & Cool Mist Humidifier

Price:

$$

Dimensions:

9.2 x 8.3 x 11.8″

Weight:

5.25 pounds

Water capacity:

5.5L

Operation Time:

12-16 hours

Highlights:

• 360° nozzle • External Humidity Sensor

View On Amazon

Honeywell Filter Free Warm Moisture Humidifier

Price:

$$

Dimensions:

12.2 x 7.6 x 12.6″

Weight:

4.7 pounds

Water capacity:

1 gallon

Operation Time:

24 hours

Highlights:

• Filter free operation • Auto Shut-Off

View On Amazon

Holmes Warm Mist Humidifier

Price:

$$$

Dimensions:

13.7 x 7.1 x 14″

Weight:

3.5 pounds

Water capacity:

1.7 gallon

Operation Time:

24 hours

Highlights:

• Anti-microbial protection • 2 speeds

View On Amazon
Levoit Humidifiers, 6L Warm and Cool Mist Ultrasonic Humidifier

Price:

$$$$

Dimensions:

11.3 x 7 x 10.5″

Weight:

6.31 pounds

Water capacity:

1.5 gallon

Operation Time:

20-36 hours

Highlights:

• Auto Shut-off • Touch Control & Remote Control

View On Amazon
Top 5 Best Warm Mist Humidifiers Reviews (New Models)
1- Vicks Warm Mist Humidifier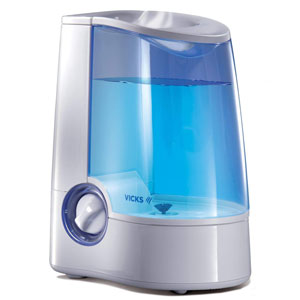 If you have kids, this humidifier will come in handy. What makes it so great is that it can come to your aid if your child is sick and finds it hard to fall asleep. This product will ensure a good sleep because of its ability to relieve one's coughs and congestion.
The Vicks humidifier helps you breathe in an easier way and is a good ally during allergy seasons or when the air is dry. It can be kept in bedrooms, baby nurseries or anywhere you need it.
It comes with two settings, a high and low one. The low one will let your humidifier last for about 19-20 hours, whereas the higher one can run for about 8-9 hours. Moreover, it turns off automatically when it runs out of the water, so you don't have to worry about it staying on.
In addition, it's not noisy, which means you won't need earplugs if you intend to let it on all night.
2- TaoTronics Warm & Cool Mist Humidifier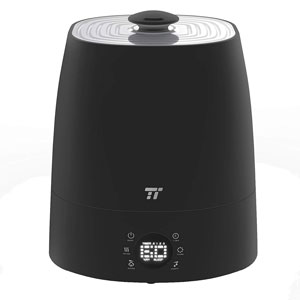 If you want a humidifier but you're worried about the little space available in your house, this TaoTronics humidifier comes as a great solution. It can easily be kept in smaller areas such as an office, bedroom or wherever you study.
In case you don't know the right setting, you should know that it has a sensor that shows you the accurate humidity level in the air. This way, you'll know how to set it to match the surroundings. Moreover, it comes with 6 LED icons that display all the essentials, such as timer, heating, humidity and sleep mode.
Also, the humidifier has a 5.5L water tank, meaning it can last for quite a long time. What's more amazing is the fact that you will have a 2 in 1 unit with both warm mist and cool mist. Therefore, you can choose whichever one you prefer, depending on the season and your surroundings.
3- Honeywell Filter Free Warm Moisture Humidifier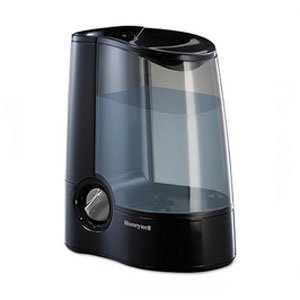 Are you tired of humidifiers that produce too much noise? If that's the case, you could choose to purchase this Honeywell humidifier. It's quiet, and you don't have to worry about going to work with bags under your eyes the next morning.
Such products will build up mold over time because of the water, but you don't have to worry about this humidifier. It's very easy to maintain, and it has a large tank opening that allows you to clean it in an easier way.
In addition, if you need a humidifier for a medium-sized room, this one does the job pretty well, and it runs up to 24 hours per filling. Also, you don't have to worry about it staying on once the water is about to drop below minimum levels. It has an auto shut-off feature that will do the job for you, so you don't have to wake up and turn it off in the middle of the night.
4- Holmes Warm Mist Humidifier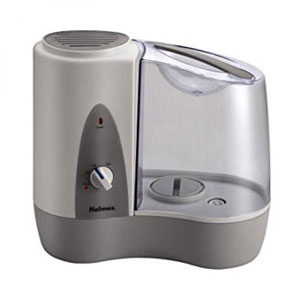 If you're looking for a humidifier that works well for small areas, then Holmes has the right product for you. It weighs 3.5 pounds and it's manufactured from plastic, so this warm mist humidifier works just great for your small room or office. It has two speeds, so you can set it however you want and it's more convenient for the room.
Moreover, the material it's made of has a great advantage – it's infused with anti-microbial protection, so it prevents the growth of bacteria that causes odors, stains or affects the performance. It can run up to 24 hours per tank filling, as it is able to support 1.7 gallons of water.
During winter, this can be a great ally if you're sensitive to cold weather, and it does an amazing job at keeping your air humid. Also, it is quieter compared to other warm mist humidifiers, so if you don't want to sleep with earplugs, this is a great option.
5- Levoit Humidifiers, 6L Warm and Cool Mist Ultrasonic Humidifier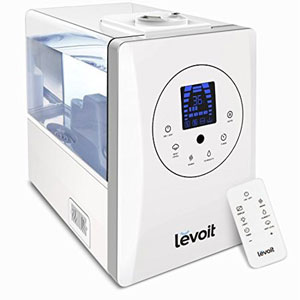 In case you were wondering if there's a single product that has both warm and cool mist, this humidifier is the answer. It has a cool and warm mist at three different levels, and it increases the humidity levels faster compared to cool mist devices.
If you're sensitive to noise, there's no need to worry – this product is very silent, and not even the most sensitive ears will be able to hear it. Additionally, it has a feature that allows you to see the humidity level. This makes it easier for you to know what settings you should make, so you can have a suitable humidity in your home.
What's more amazing is that it has a capacity of 6L, meaning it has a long continuous use, for about 20 to 36 hours. If you're too comfortable on your couch, there's no problem – the remote allows you to control the device from the distance. It is easy to use as well, and you can have proper humidity in your home without too much effort.
The Basics of Warm Mist Humidifiers
How does a warm mist humidifier work?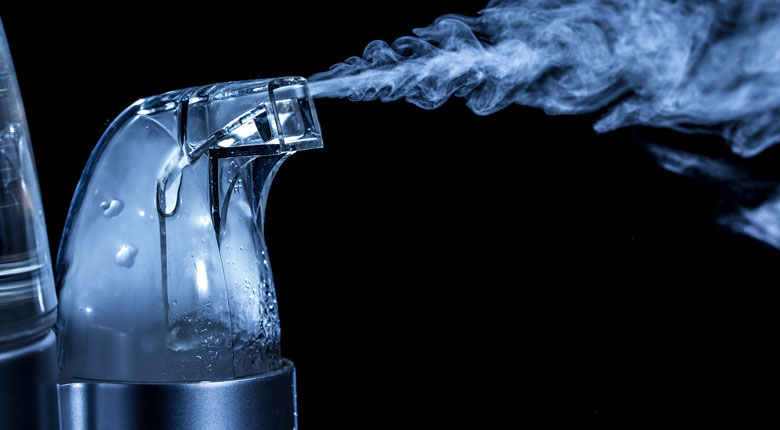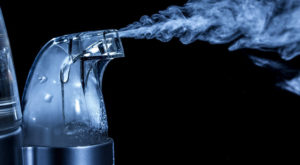 By now, you probably know the aim of a humidifier – to increase the humidity in a room, home or building, and make you feel comfortable and put an end to coughing. Dry air can have several impacts on your health. For example, it can give you cracked skin, a sore throat, or it can increase your allergies and aggravate your sickness symptoms.
For that reason, purchasing a humidifier could be ideal, especially during winter. As the weather gets colder, you would want to stay inside the house more. So, you will need something that will reduce the cold weather effects. It doesn't only help with cold-weather symptoms, though. It's also a great ally for people with asthma, and for people with allergies.
A warm mist humidifier is a great investment. Most of these products are vaporizers, meaning that they boil water and create moisture by releasing steam. This way, they maintain your home's humidity at a proper level and they increase the warmth of the room.
Also, most of them work with no noise. A warm mist humidifier doesn't require a fan in order to distribute moisture, meaning that you can sleep like a baby even when it's turned on during the night.
The way it works is pretty simple. It boils the water in the tank until it vaporizes. Consequently, it moisturizes the air in your room, and it maintains the humidity as well as the warmth.
Moreover, it fights off the mold and bacteria that develop in the tank, so you don't have to worry about them. This thing makes warm mist humidifiers very healthy and beneficial. They can be used as steam medications too, but you should consult a physician before that, so he/she can advise you on that. In addition, if you are struggling with allergy or asthma symptoms, you can use warm mist humidifiers, as they work for that too.
These types of humidifiers also work without you having to replace the filters. Another great thing is the fact that they can collect any minerals that are leftover from the heated water.
What is the difference between a cool and warm mist humidifier?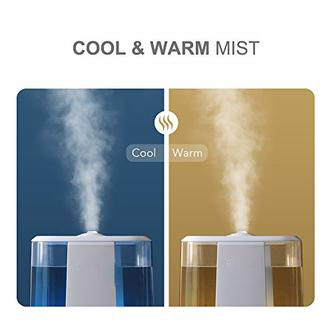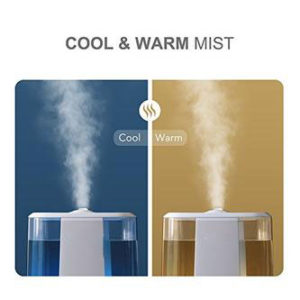 When it comes to mist humidifiers, you have two options – warm and cold ones. Although both of them pretty much have the same goalkeeping a room's humidity – they are different in the way they operate.
Now, the names are pretty descriptive – a cool-mist humidifier sprays cold mist, whereas a warm mist humidifier sprays warm one. Still, which are the other differences you should know about, to decide on the best whole house humidifiers for you. Here's a list.
Working Style
Cold mist humidifiers come in two types: evaporative and ultrasonic.
The ultrasonic humidifier uses vibrated technology that helps it break water down into small droplets, which then turn into cool mist particles. They are less noisy compared to evaporative ones. Evaporative ones, on the other hand, increase humidity with the fan and wick filter. Basically, the water in the tank flows to the wick filter, which is blown by the fan and, as a result, turns into a cool mist.
At the same time, warm mist humidifiers are different. They boil the water, and then vaporize it in the air, making your room feel warm.
Noise
Because cool mist humidifiers use a fan to generate the mist, they tend to be noisier, meaning you may want to consider some earplugs if you let them on while sleeping.
On the other hand, warm mist humidifiers are very quiet. They don't use a fan, as they boil the water in order to create warm mist and release it into the air. The only sound you will hear is from the boiling water, or the sound it does when the water is being dispensed and ready to heat.
Price
Warm mist humidifiers require heating elements because they generate warm mist and can keep a room's warmth. For that reason, they tend to be more expensive.
Cool mist humidifiers are less expensive due to the lack of heating elements.
Electricity
Because of the heating elements, warm mist humidifiers require more electricity in order to function properly. At the same time, cool mist ones require less electricity, because they own no heating elements, so they are more merciful with your electricity bill.
Mold and Bacteria
As already mentioned earlier in the article, warm mist humidifiers have the advantage of killing bacteria and getting rid of mold due to boiling the water. They can be a very healthy investment, as they don't make you inhale bacteria. They still need to be cleaned regularly, as the hard water residue can become a problem.
However, cold mist ones are more at risk of growing bacteria and mold. Because of that, they are a less healthy choice. Moreover, you have to clean them regularly as well, in order to keep mold and bacteria away.
Replacements
Whereas warm mist humidifiers don't need filter replacement, evaporative ones do, because they require a fan. Therefore, you will have to replace it from time to time.
Risks
Although it's not always likely to happen, warm mist humidifiers are more dangerous compared to cold ones. If you have a child that is always running around the house, the humidifier can become a danger, especially if not placed safely.
If it is tipped over because of a mistake, the hot water can cause serious burns and injuries, which can be very dangerous, especially for children and pets. Because of that, you need to pay extra attention and think about a safe place where you could keep it.
Meanwhile, a cold mist humidifier is safer from that point of view. It doesn't boil the water, meaning there's no danger in case it's tipped over.
Therefore, warm and cool mist humidifiers are pretty different from each other, even though they both aim to keep your house humid enough. They work differently, have certain risks and their prices differ, as well. So, choosing the most popular cold mist humidifiers or warm humidifiers is up to you.
Warm Mist Humidifiers – Buying Guide
Do you want to buy the best warm mist humidifier, but you have no idea what its pros and cons are? Don't worry – all these features are listed below.
Benefits of Warm Mist Humidifiers
Warm mist humidifiers can kill the mold and bacteria in the tank before vaporizing the atmosphere. Basically, the heating element also sterilizes the water when boiling it. Consequently, it's very healthy, making it a great choice for households.
They are very silent because they don't operate with a fan. All they do is boil water, meaning that this is the only noise you will hear. So, they make it easier for you to sleep while the device is turned on.
These humidifiers have a lot of benefits for your health. In case you have a sore throat, nosebleeds, cracked skin or chapped lips because of the dry air, they can help. In addition, they reduce the number of flu and cold viruses in the air.
They eliminate the allergens in the air, making your life easier if you suffer from dust allergy or other types of allergies. So, if you need a humidifier for allergies, a warm mist one is what you should be looking for.
During winter, they keep your house warm. The mist they release is, as their name suggests, a warm one. This means you will feel comfortable – temperature-wise – near them.
Risks of Warm Mist Humidifiers
If you have children or pets that could tip the device over, there is a huge risk of burns and injuries. The boiling water can seriously harm anyone touching it, so the device has to be placed in a safe area, to avoid this from happening.
If you don't clean the humidifier properly, bacteria can grow and cause coughs and colds. Although warm mist humidifiers are known to kill bacteria in the tank, that doesn't mean they don't require cleaning. In order to keep fungal growth away from your device, it needs daily and weekly cleaning.
If you allow the unit to expel too much moisture, it can lead to mold on your walls. It does this through condensation, so you should be careful at how you use the device.
Warm Mist Humidifiers for Babies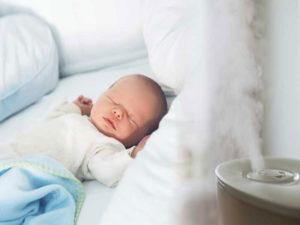 If you have a baby, choosing the right humidifier is essential. The reason is the fact that babies should be safe and happy, and a good humidifier can ensure that.
If the baby room needs to get moisturized, then placing a humidifier in the room can be a good idea. Warm mist humidifiers have the advantage of being very quiet, so if the baby sleeps, the device won't wake him/her up.
Additionally, they are healthy and don't vaporize any bacteria in the air, as they kill them in the tank, meaning the air your baby breathes will be bacteria-free.
However, as mentioned, this doesn't come without risks. Should the device fall, the baby can get injured, and considering how sensitive babies are, they could get serious burns. You want to keep your baby safe, so placing the humidifier accordingly should be taken into consideration. Make sure you put it somewhere away from the baby, where it's won't do any damage if it falls.
How to Clean Your Warm Mist Humidifier?
Because it tends to accumulate mold and bacteria over time, it's essential to keep your humidifier clean. Moreover, a clean device is a healthy one. It may kill bacteria in the tank before releasing the mist, but that doesn't mean cleaning it is not essential. Therefore, here is how you can maintain your device:
If you use the warm mist humidifier every day, it's important to clean it daily, so it doesn't accumulate bacteria. Due to the warm and moist environment, this could happen, and it could become very unhealthy.
In order to clean it daily, you need to turn it off and let it cool down before you start the cleaning process because it's too hot and you may burn your skin. After each use, drain and rinse the water tank.
Each day, after this is performed, you should wipe the medicine chamber, water tank, heater, water tray, and other parts. Use a soft and clean cloth for this.
Make sure that there is no water left in the chambers after you use and clean it.
Weekly cleaning is also important in maintaining the device. This process is more complex and it takes longer than the daily procedure.
So, you should turn your humidifier off and wait for it to cool down. After that, you can disassemble it. Take the water tray and soak it in equal parts of vinegar and water. Do this for about 20 minutes. After this time passes, take a soft, clean cloth to rinse and dry it.
The next step is pouring white vinegar into the heating chamber. Again, this is a process that should take about 20 minutes, so let it sit there for that long. Afterward, take a clean cloth damped with vinegar and use it to remove any limescale deposits from the heating chamber.
Rinse the heating chamber but don't submerge. However, make sure you don't use any solutions other than vinegar to clean these parts. So, stay away from soaps or other similar products. You may place the cooling chamber, water tray and medicine cup in the top rack of a dishwasher, though.
Wrap Up
Looking for the best warm mist humidifier is not such an easy task, because you need to do a lot of research before choosing one. If you do this, you will be able to find out more about the pros and cons of owning such a device, and you can choose one that is right for you and your home. Whether you need to feel warm during cold winter days, you have asthma symptoms or you're allergic to dust, a warm mist humidifier can be a good choice.
We hope that our best warm mist humidifier reviews helped you decide on a model that would be useful in your house. If you don't know anyone who owns a similar product, it's hard to find out if it's actually good. Thankfully, you can read more unbiased reviews on our home page and you can now choose the device that suits your needs.