Mold, mildew, and viruses have always been an issue – one that is particularly obvious when you are indoors. When there is not enough air circulating throughout the house, there is a very high chance that the humidity and impurities could cause the mold and mildew to grow. The opposite may also happen: when there is too much air, it's easy for the viruses to spread around.
This is why you need to ensure that you don't allow your home to become a breeding environment. You need to clear the air using air filters for viruses – purifying it so that the mold and viruses no longer have any chance of coming into contact with you. Not only does this improve the quality of the air that you are breathing, but it also keeps you healthy in the long run.
However, finding the best air purifier for mold and viruses is not such an easy task. For this reason, we put together a guide along with some reviews to help you out. This should help you make a well-researched choice.
Best Air Purifiers for Mold, Mildew and Viruses Comparison Chart
PRODUCT
DETAILS

Winix 5500-2 Air Purifier with True HEPA

Price:

$$

Dimensions:

15 x 8.2 x 23.6″

Weight:

15.4 pounds

Coverage:

360 sq. ft

Speed:

4

Efficiency:

99.97%

View On Amazon

Honeywell HPA300 True HEPA Air Purifier

Price:

$$$

Dimensions:

9.2 x 20 x 22.2″

Weight:

21 pounds

Coverage:

465 sq. ft

Speed:

3

Efficiency:

99.97%

View On Amazon

LEVOIT Air Purifier for Home Bedroom with True HEPA Filter

Price:

$$

Dimensions:

14.5 x 7.2 x 18.5″

Weight:

11.24 pounds

Coverage:

360 sq. ft

Speed:

3

Efficiency:

99.97%

View On Amazon

Coway AP-1512HH Mighty Air Purifier with True HEPA

Price:

$$$

Dimensions:

9.6 x 16.8 x 18.3″

Weight:

12.79 pounds

Coverage:

up to 361 sq.ft

Speed:

3

Efficiency:

99.97%

View On Amazon

Dyson Pure Cool Link TP02 Wi-Fi Enabled Air Purifier

Price:

$$$$$

Dimensions:

7.7 x 4.3 x 40.1″

Weight:

7.9 pounds

Coverage:

300 – 500 sq.ft.

Speed:

10

Efficiency:

99.97%

View On Amazon

Rabbit Air BioGS 2.0 Ultra Quiet HEPA Air Purifier

Price:

$$

Dimensions:

16.6 x 9.8 x 22.2″

Weight:

16.8 pounds

Coverage:

550 sq. ft.

Speed:

5

Efficiency:

99.97%

View On Amazon

Oransi Finn HEPA UV Air Purifier with 2 Free Pre-Filters

Price:

$$$

Dimensions:

12.8 x 8.8 x 24″

Weight:

10 pounds

Coverage:

400 sq feet

Speed:

3

Efficiency:

99%

View On Amazon
Best Air Purifiers for Mold and Viruses (Top Picks)
1. Winix 5500-2 Air Purifier with True HEPA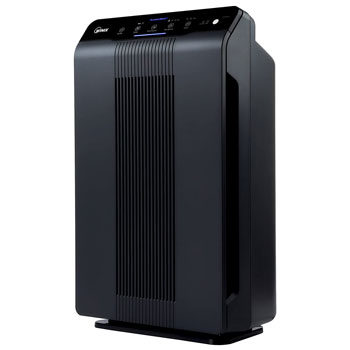 Those of you looking for a nice design that is also effective might want to take a look into this Winix air purifier model. Featuring true heap filters that can catch up to 99.97% of pathogens in the air, it is a great choice to rid your home of bacteria and viruses – therefore keeping yourself healthy.
This air purifier was given a washable AOC activated carbon filter, efficient in removing odors from the household. This way, if you are struggling with mold odors, this unit should clear the air and make it more breathable. This is further enhanced by the Plasma Wave setting.
This air purifier is great for medium-sized rooms, as it can cover an area of 360 square feet. Plus, it was given a Smart Sensor gauge that will purify the air as needed – with a sleep mode included that can provide a silent operation throughout the night. For a better night's sleep, you may check some more top-rated Winix models.
Pros
Silent operation throughout the night
True HEPA filters that capture even small allergens
Washable carbon filter that easily removes odors
Cons
The plasma wave may cause ozone-related health issues
May not be as efficient in removing very strong odors
2. Honeywell HPA300 True HEPA Air Purifier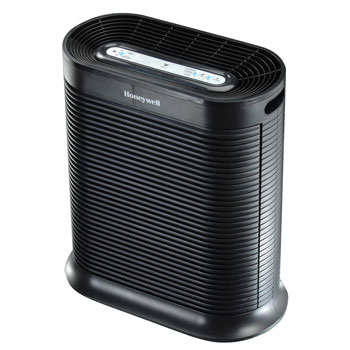 Those of you looking for an air purifier capable of cleaning the air in a larger room might want to give this unit a try. This Honeywell unit can clean the air in rooms up to 465 square feet – so, it is perfect for placing in your living room or pretty much every large room in your house.
The Honeywell air purifier has been given a turbo-cleaning system that was set for three different cleaning levels. This way, depending on the contamination level of the air, you may set the unit accordingly.
Featuring true HEPA filters, this unit not only catches allergens and bacteria, but it also works well against viruses. This way, you can be sure the air stays clean – therefore protecting your health. You may also want to try other good quality Honeywell air purifiers options, as they provide similar features.
Pros
Quite efficient in improving a home's air quality
3-mode action can be adjusted depending on the general air quality in your home
Capable of cleaning even larger rooms
Very easy to operate
Cons
Can release a strong chemical smell over the first few days of use
Quite loud, making it troublesome for night use
3. LEVOIT Air Purifier for Home Bedroom with True HEPA Filter
If you are looking for a quiet unit to place in your bedroom, then you might find this one quite a good investment. Running at only 52 dB, the noise is actually restful and soothing – not disturbing your sleep in the slightest throughout the night.
Featuring special Honeycomb activated charcoal filters, this Levoit unit can easily filter away the odors in your home. This way, if you have odors in your home caused by mold, then this should clear the air and make it more breathable.
The unit also features quite a convenient "auto mode." The air sensors of this unit will automatically pick up the quality of the air in your home and set up the fan speed accordingly. If the air is relatively clean, the unit will remain at the lowest setting – and if the pollution level is high, the fans will work at their highest speed. Other Levoit air purifiers have a similar effective action, which is why you may want to check them out.
Pros
Very quiet action, making it perfect for night use
The auto mode that sets the filter speeds based on the quality of the air
Very efficient at eliminating odors
Great at clearing out dust in the room
Cons
It can still be quite noisy on the highest setting
The motor has an intermittent clunk after a few days of use
4. Coway AP-1512HH Mighty Air Purifier with True HEPA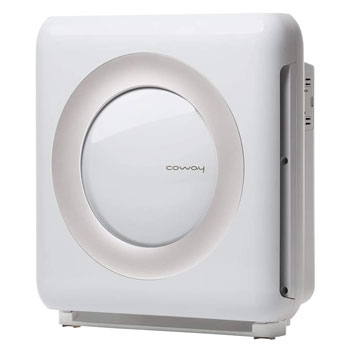 If you are looking for a good unit to filter the air in a small to a medium-size apartment, then you might want to try the Coway air purifier. With the ability to cover 361 square feet, this unit can easily be used in a living room or an apartment that is slightly on the smaller size.
This purifier features an air quality indicator that tells you exactly if the air in your house is clean, medium-polluted or highly polluted. This way, you will know which one of the three filtration stages to choose from deodorization filter, pre-filter, Vital Ion and HEPA filter. The fans may also be set on three different speeds, depending on the general air quality in your home.
The unit also features a timer. This way, you may set it to run for one, four, or eight hours before the unit shuts itself off. This is quite convenient if you are away from home a lot and you do not want the air purifier to work for an entire day. This way, you may easily save power.
Pros
Lightweight and easy to maneuver
Efficient at improving the air quality in a small to medium-sized room
Quiet action
Cons
Its design is fairly big and bulky
5. Dyson Pure Cool Link TP02 Wi-Fi Enabled Air Purifier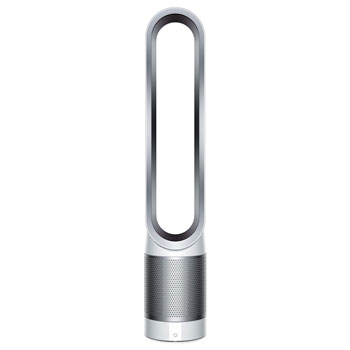 If you are looking for a purifier with a unique design – different from the average units, then you might want to give this Dyson unit a try. The purifier is long and sleek – and may easily pass off as a modern home accessory.
Thanks to its 360-degree glass HEPA filters, this unit may easily capture microscopic particles in the air. This includes bacteria, pollen, pet dander, or pretty much any particles that are as small as 0.3 microns. It's a perfect choice if you have allergies.
Aside from its efficiency in circulating purified air throughout your home, this unit was also given an automatic night mode feature. During this setting, the unit will function in its quietest setting, with the LED lights dimmed as well. This way, your sleep will not be disturbed. You may check other best Dyson units as well since most of them have this quiet action.
Pros
Quite an interesting design for modern homes
Very efficient at removing pollutants, allergens, and odors
Automatic night-time mode that creates very few disturbances
Cons
The filter will have to be replaced quite often
The unit gets loud after some time
6. Rabbit Air BioGS 2.0 Ultra Quiet HEPA Air Purifier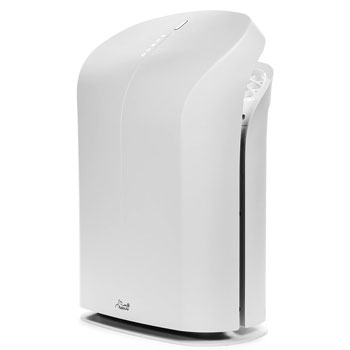 Air purifiers can be quite inconvenient when you are trying to sleep since a lot of them make a bit of noise. However, in comparison to other units, the Rabbit purifier is very quiet – especially when you set it at a lower speed. In fact, the lowest setting is practically unnoticeable.
Featuring true HEPA filters, this product is perfect for eliminating bacteria and allergens from the air. This way, you will know that the air you are breathing is clean. Plus, it's very efficient against dust and other particles – keeping your house clean and dust-free for a longer time.
This unit is Energy Star certified. This means that it only takes little power to run – this, your energy bill will not be going through the roof.
Pros
Very quiet action
Efficient at eliminating odors
Uses little power
Cons
It can still be loud on higher settings
The light is very bright and inconvenient for night use
7. Oransi Finn HEPA UV Air Purifier with 2 Free Pre-Filters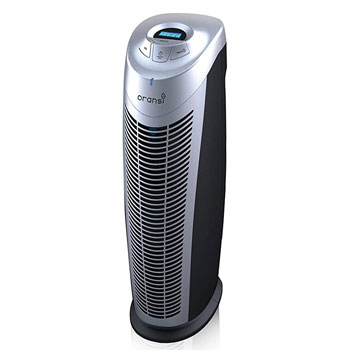 Looking for a compact air purifier to set in your bedroom and clean the air as you are sleeping? If the answer is yes, this small unit is just what you need. With an area coverage of up to 400 sq. ft., it can easily purify the air in a small bedroom.
Having a noise level going from 40 to 60 dB, the Oransi unit is quite silent even when it is running on the highest setting. This is quite convenient if you are easily bothered by noise. When it's at the lowest of the three settings, the noise is barely noticeable.
This unit takes the air through two filters: a pre-filter and a high-efficiency filter. This way, you have the certainty that the air you are breathing is clean.
Pros
Very efficient at cleaning out the air
Compact and perfect for small places
The very low noise level
Cons
It is still very loud at high settings
The filter is quite difficult to set, as the sensor might not recognize it
8. SilverOnyx Air Purifier for Home with True HEPA Filter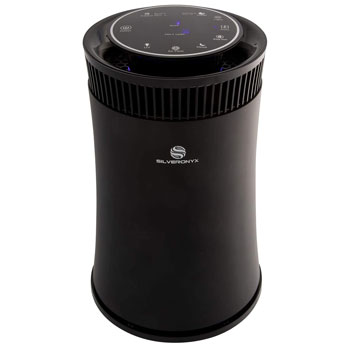 People with pets have all complimented this product, as it deals with pet dander quite nicely. Therefore, if you are allergic to pet hair but you still can't part with your companion, this unit should make your life easier.
Featuring a HEPA H13 activated charcoal filter, the SilverOnyx air purifier is quite efficient when you have a mold problem, absorbing the odor-causing bacteria and inhibiting it. Plus, thanks to the UVC-light system, it's also effective against viruses.
Unlike other units that feature a bulky square design, this one is nice and cylindrical. This way, it will fit nicely in a modern room, without feeling out of place. For more interestingly-designed models, you can also check other SilverOnyx models.
Pros
Attractive design
Efficient in clearing the air
Very easy and intuitive to use
Cons
The sensor is not always accurate
The power supply is not included
9. Holmes 4-Speed True HEPA Air Purifier with Quiet Operation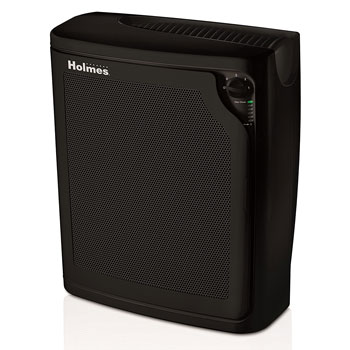 Unlike the average unit that features 3 different speeds, this purifier manufactured by Holmes allows you to choose from a total of 4. This way, depending on the air quality in your room, you can select exactly which one you need.
This air purifier features a slim design that may be incorporated in any bedroom. However, it can be quite efficient in other rooms as well, as its coverage is as high as 349 sq. ft.
Holmes also provides a 5-year warranty for this product. This way, in the eventuality that it malfunctions, you know that you have coverage. That being said, it can remove 99.97% of the air contaminants throughout a prolonged time. You may see other top-rated Holmes models as well, to confirm the brand's efficiency.
Pros
Quite efficient at removing contaminants from the air
Covers quite a large surface
Warranty is very generous
Cons
It might be too loud for residential use
The door doesn't always stay closed
10. Germ Guardian Bluetooth Smart Voice Control Air Purifier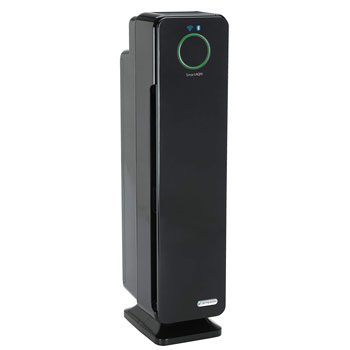 Are you tired of continuously coming and going to your air purifier to manually activate it? Well, this unit should make things much easier. Featuring a Bluetooth and Wi-Fi connection, you may simply connect it to Alexa or any smart home systems you may have.
This unit has also been given a true HEPA filter – meaning that it may easily catch mold, bacteria, and viruses that are hanging on in the air. Plus, with the addition of UV-C light, the viruses don't even stand a chance.
Thanks to the activated charcoal filters, mold odors are also removed. This way, if you have an issue with mold, this Germ Guardian air purifier will clear the air of contaminants – and thus, the air should remain clear after that. You may also look at other Germ Guardian units for more virus-removing properties.
Pros
Very efficient at removing odors
Removes both mold and viruses from the air
Can be accessed remotely
Cons
The PM sensor is faulty
Connecting it to Alexa is difficult
Do Air Purifiers Actually Clean the Viruses?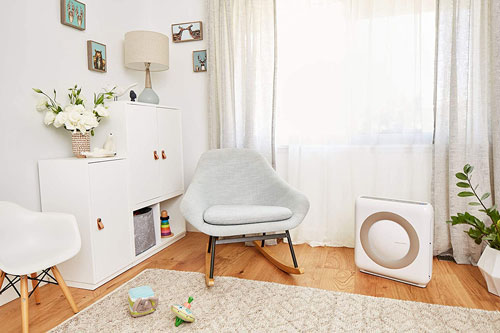 If you've ever been worried about keeping your home clear from viruses, you probably asked yourself this question at some point: do air purifiers even work when it comes to viruses? Let's say that there's an outbreak in your area, or someone has the flu in your home – can air purifiers do anything for you so that you don't catch the virus as well?
First things first, you should keep in mind that no air purifier can provide 100% effectiveness – but it can still go to 99.9%, as long as you allow it to do its business. Plus, it depends on the timing. If the virus just got inside your home, it might take a few minutes until it gets purified. The better the purifier is, the faster the air will be purified – reducing your risk of being exposed.
To understand an air purifier's efficiency of cleaning the viruses, you also need to understand how it works. Putting it simply, an air purifier has the action of drawing the air in your home through several filters, removing any mold spores, fungi, viruses, and bacteria that are carried by air.
Since these contaminants are microscopic, you will need special filters if you wish to remove them – and air purifiers are generally equipped with those filters. Plus, not only do they have the technology to trap these contaminants, but they can also kill them. However, you will find out more about that by checking the features to look for.
Features to Look For in the Best Air Purifier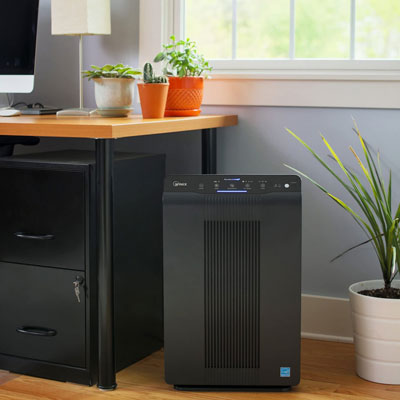 When looking for an air purifier, there are certain things that you may want to keep in mind. By ensuring that your unit is equipped with these features, you will have the certainty that your home is as safe from mold and viruses as possible.
HEPA filters, particularly the silver-infused kind (or true HEPA filters), are among the most efficient when it comes to cleaning the air of viruses. In most cases, when it comes to bacteria, regular HEPA filters are used to remove the contaminants. This is because they can trap around 99.97% of particles that are as small as 0.3 microns.
This includes quite a wide range of bacteria, as these microorganisms generally go from 0.2 to 10 microns in size. However, a virus can have a size of anything from 0.004 microns to 0.1 microns. Because of this, it might be rather inefficient to use regular HEPA filters to trap these kinds of pathogens.
On the plus side, even if you can't catch them, this does not mean that you can't kill them. Since silver is a natural antiviral, antibacterial, and antifungal agent, some HEPA filters have also been given a silver infusion. This will kill the bacteria and viruses from the moment they enter the filter, stoping their reproduction and ensuring that the air in your home stays clean.
Often, the best air filters for mold that make use of ultraviolet lighting will also be referred to as an "air sanitizer." No matter if your unit is called this way or not, ultraviolet lighting is very efficient when it comes to purifying the air. This is because these lights are also called UV-C germicidal light – the kind that is deadly to pathogens of most kind.
UV-C is a radiation type that is safe for people to be around but is quite deadly for airborne viruses and bacteria. This is because it can destroy the molecular bonds that are holding together their DNA. For this reason, they are quite commonly used in hospitals, along with doctor's offices, since they can decontaminate the surgical equipment.
For those that are concerned about the radiations given by the UV-C lights, you will be happy to know that this part of the purifier is kept out of sight. The bulb is housed within the lamp that is placed inside the purifier. You will only have to come into contact with this light when you have to replace it – and during this time, the unit will have to be turned off anyway.
Activated carbon (or activated charcoal) filters are the only kinds of filters that may reduce the odor caused by pathogens such as fungus, mold or mildew. Other filters have the ability to kill the bacteria or trap it – but even if the bacteria get trapped, that does not mean that it will stop smelling.
This is why this filter is crucial to look for. When mold particles start circulating through the air, they release that stagnant and unpleasant odor that most of us have become familiar with. You may get rid of the smell by airing the room – but that is not always possible, particularly during the cold and the rainy season. The activated carbon filters within the unit will clean the air so that you will not have to deal with any unpleasant odors.
Each air purifier will feature its own coverage, which is why you should know the size of your room before you purchase the unit. Air purifiers can go from 300 sq. ft. to 1000 sq. ft. – so, consider whether you want to purify your entire home, or you wish to install one in each room. In most cases, the room coverage will be featured on the product description.
Small purifiers may not be able to purify the air entirely from one room, whereas others may prove to be "overkill" for certain rooms. Even if you go for a bigger purifier for a smaller room, the chances are that the same number of germs and viruses will be killed – so, you won't be solving anything even if you go for a bigger unit. All you will do is spend needlessly for a bigger model when in fact you just needed a smaller one.
Air purifiers tend to make unusual noises when they are operating. Sometimes, it may be because of the air filters that have become too dirty – and in other cases, it might be because the unit simply works that way.
That being, you may want to go for an air purifier that has a lower noise level – particularly if you are placing it in a room where you work or sleep. The last thing you want is an air purifier humming in your ears throughout the entire day.
Some air purifiers may also release quite a lot of light. Some people appreciate it, as it becomes like a "lamp of the home." However, if you are planning to sleep in that room, then you might be bothered by the light. In this case, you might go for something whose light may either be shut off, or at least can be closed.
Differences between a Dehumidifier and a Mold Air Purifier


Since dehumidifiers and air purifiers both have the purpose of minimizing allergens in the house, people use them interchangeably. However, there are some differences between them – differences that people need to keep in mind. They are similar, indeed – but their features serve a different purpose:
While the purpose of the air filter is to trap allergens, dust, and smoke, the dehumidifier's purpose is to reduce the moisture in the room.
While dehumidifiers can remove mold, mildew and dust mites, air purifiers can remove allergens, smoke, pet dander, bacteria, mold spores, and dust.
Whereas air purifiers do not have a suggested humidity to be used in, it is recommended to use dehumidifiers when the humidity is over 50%.
So what are the differences between the two?
Both units are efficient for allergy sufferers and asthmatic people, but these units feature quite a different action in their purpose. To put it simply, the air purifier takes out the contaminants from the air and purifies it, whereas the dehumidifier dries the air, making it impossible for the contaminants to spread.
If you have problems with allergies or any other respiratory issues, then you will benefit more from an air purifier. This will reduce the number of contaminants and overall allergens and viruses in the air, making it much easier for you to breathe as the air will be clean. Like humidifiers for asthma, their purpose is to make the air much easier on your lungs. On the other hand, if your problem lies only in mold, then a dehumidifier might be the better choice. All in all, various challenges require various solutions. This is why it may be suitable for you to check out our home page containing our reviews on humidifiers and dehumidifiers.
On the other hand, if your purpose is to remove musty smell from a room or to prevent dust mites from spreading even further, you can get a dehumidifier. It is also a good choice if your respiratory condition is triggered by excessive humidity. Last but not least, dehumidifiers are efficient at lowering the temperature of a home in humid places without actually running the air conditioning.
Steps for Testing the Air for Mold
Mold can be there – even if you don't notice it, it can be in the air, tickling your sinuses and causing a plethora of health problems. These issues may go from allergies to nausea, skin rashes – and in some cases, neurological disorders. These problems may be minimized by humidifiers for sinus problems – but it's only temporary. This is why you have to detect the mold even before your health starts declining, to know exactly what steps you need to take.
There are ways for you to check for a mold without any equipment; you just need to look in the most common places where it grows. However, there are some instances where you may not be able to see it – in which case, you may have to test the air itself. This way, you will know whether the mold is the problem or not.
There are two ways for you to test the air: you may do it through HVAC air sampling, or you may do it with a settling plate. The HVAC air sampling option will test whether the air conditioner is sending mold into the room or not, whereas the settling plate will check if there is mold in the air in general.
Here are the steps that you should follow if you are testing your HVAC system:
Purchase a mold testing kit for homes. There are numerous companies selling them, so choose wisely.
Close the window and doors, to get the correct results. Since there won't be any drafts, the potential mold spores may easily congregate.
Open the testing kit and take out the petri dish. Bear in mind that you should not remove the lid from its packaging unless you are planning to use it. Otherwise, it might just lead to inaccurate results.
Place the kit's petri dish on a flat surface, side up.
Remove the Petri dish's lid. While being careful not to touch the insides, you will have to add the "mold medium" into the dish.
Replace the Petri dish's lid. Give the dish a gentle shake, until its content goes over the entire bottom. Allow it to sit for about an hour. This will enable the contents of the dish to harden.
We got 4 more steps for you
If you would like to perform an HVAC air sampling test, you will have to locate an air vent. Place the dish near the vent – and for this test, close all the other vents. This way, you will know that the mold sent out will be coming from that single vent.
Take the lid off the petri dish. You may want to use tape in order to secure it to the vent. Bear in mind that for the test to be successful, you will have to blow air inside the dish – which means that the dish's opening should be facing the vent.
Turn your HVAC system to its highest setting. Make sure that the air blows into the dish for at least 10 good minutes.
Take away the petri dish from the lid, and allow it to remain covered. After 48 and 96 hours, check to see if any mold has grown. If there was any mold blowing from the air vent, once it went into the petri dish, it will grow. This will confirm to you that you do have a mold problem.
If you want to go with the "settling place" method, you can go with all the steps – minus the one where you place the petri dish over the vent. Instead of taping it to your HVAC system, you simply put it onto a flat surface and leave it there. Check-in 48 and 96 hours to see if there is any mold growth. Make sure not to remove the lid while you are examining its contents.
Common Places Where Mold Grows in Homes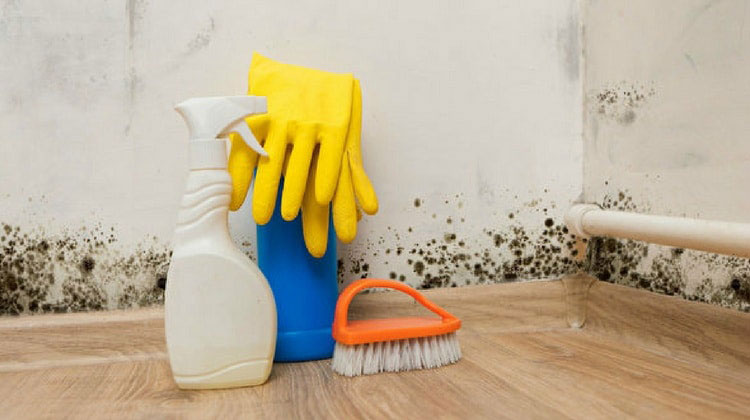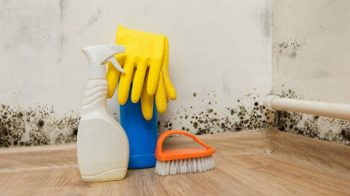 Mold generally grows in places of high humidity and may cause quite a lot of health problems. In this regard, before things get any worse, you need to check your home and see whether there are any signs of mold or not. This way, you should know if it's the right time for you to buy an air purifier.
Window Sills
Windows tend to collect quite a lot of condensation because of the humidity – and as a result, they are the perfect place for mold to grow. If that moisture manages to find its way towards the window sills on the inside of your home, then you can say hello to your mold problem. Unless you dry them off regularly or use a unit with dehumidifying properties, then the problem might get even bigger over time.
Heating Vents and Air Conditioning
Depending on the season, you might depend on the heating vents or the air conditioning to ensure that the temperature stays optimal. Both these units can generally help control the humidity. However, there is also the chance that mold can grow inside the vents. This is why you might want to bring in the right tools to ensure it doesn't happen.
The Mattress
Mattresses that are not mold-resistant also tend to develop mold – and considering we use them to sleep on, it is the last place where you might want to allow for mold to go crazy. Make sure that your mattress gets the ventilation that it needs and that the environment in your room remains appropriately dry. Even with the best humidifiers for allergies, it won't do you any good if your mattress is packed with pathogens.
Chimney and Fireplace
When the fire isn't crackling through them, fireplaces along with chimneys tend to be rather damp, cool and dark – making them the perfect place for mold to develop. Plus, since brick is rather porous, it's quite easy for the mold to spread and take over the entire chimney.
Walls and Ceilings
A lot of people can have mold on their walls without even noticing, mostly because it tends to develop behind large pieces of furniture – where it's all "nice" and dark. Generally, these people don't even realize they have a mold problem until it starts climbing up to the ceiling. A good way to catch this problem before it goes haywire is to conduct a "sniff test," because as you know, mold tends to have quite a nasty smell. Wallpaper may also be prone to mold – so, if you notice a problem, you might want to ask for the help of an expert.
See our top-rated dehumidifiers reviews; 
Quality Whole House Dehumidifiers
The Finest Humidifiers for Basement
Wrap Up
Finding the best air filters for viruses can certainly be quite a challenge. Considering that these small pathogens can easily go through the filters, it might be rather difficult to find a unit that is actually efficient. That being said, as long as you look for the right features, you should be able to find something that will keep the air clean and ensure that you remain as healthy as possible.
Hopefully, our article managed to give you some insight into what units you should try. These air filters come at different prices and each will have its own benefits. You just need to find the one that is most efficient for your purposes.